CLICK to listen LIVE to 1450 WLAF CLICK to watch LIVE WLAF-TV 12
Smith Hardware OPENS at 7:30 a.m. Monday - Saturday
TERRY'S TIME & TEMP Line 423.566.TIME…566.8463 (a service of Terry's Pharmacy)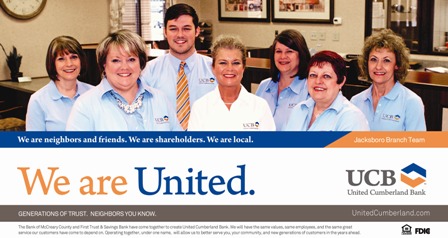 Photo from home
La Follette resident Laura Jarnagin listens as the mayor reads a proclamation in honor of her 82nd birthday yesterday.
(CHARLOTTE UNDERWOOD PIX)
Extended early voting hours today. Numbers top 2K
Early voting polls at Jacskboro and Jellico are open until 7:00 p.m. tonight. On Thursday, early voting numbers pushed the overall voting total past the 2,000 mark. Early voting kicked off a week ago today, and so far, 2,026 Campbell Countians have either cast a vote in person or mailed it. A total of 339 folks spun the dial and hit enter at the polls on Thursday. The 2,026 votes cast through Thursday afternoon represent a tad more than nine-percent of the total number of active voters, 21,864, in the county. Early voting runs through August 2. At Jacksboro, the days and hours are, Monday-Thursday from 9:00 a.m. until 4:00 p.m. and then on Friday from 9:00 until 7:00 p.m. North side voters may vote at Jellico Monday through Thursday between 9:00 a.m. and 2:00 p.m., and the Friday hours are 2:00 p.m. until 7:00 p.m. Both Jacksboro and Jellico early voting precincts are open 9:00 a.m. until 1:00 p.m. on Saturdays. Election day is Thursday, August 7. WLAF plans to provide complete election coverage beginning election night at 7:30 p.m. over radio, television, internet, Facebook, and Twitter.
Early voting totals: July 18-446, July 19-202, July 21-355, July 22-350, July 23-300, July 24 - 339. (07/25/2104 - 6:00 AM)
La Follette woman honored with birthday proclamation
By Charlotte Underwood
An 82-year-old La Follette resident was honored yesterday with a surprise birthday proclamation by La Follette Mayor Mike Stanfield.
Stanfield proclaimed July 24 as Laura Jarnagin Day in the city to honor the lady who has "always been a friend to the city."
Laura Jarnagin, middle, turned 82 yesterday! La Follette Mayor Mike Stanfield proclaimed July 24 as her day since she has been such a friend to the city. She is pictured here with the mayor and her daughter Shirley Jarnagin, right.
"She's been my friend and a friend of the city for over 50 years and it's an honor to be able to do this today," Stanfield said.
As Laura blew out the candles on her cake, one candle was a bit stubborn.
"It's kinda like me; it don't want to give up," she laughed, as she made her birthday wish.
Laura, who was born in 1932, said she had spent just about her whole life in LaFollette and she wouldn't have it any other way. She worked for years at the Y-12 Oak Ridge Laboratories and even lived I n Oak Ridge for nearly three years.
Eighty-two-year-old Laura Jarnagin blows out her birthday candles and makes a wish at the La Follette City Hall on Thursday morning.
"I would come home every Wednesday to do my grocery shopping at Shelby's; I had to do my shopping at Shelby's," Laura said with a laugh.
Her daughter Shirley Jarnagin was on hand to help her celebrate at city hall with cake and ice cream. Her son James Jarnagin joined in the celebration too.
"Oh she is happy, she's so happy," Shirley Jarnagin said with a smile at her mother.
Laura Jarnagin and Mayor Mike Stanfield pause for a picture during Jarnagin's 82nd birthday celebration.
"I will cherish this; oh my goodness, I will cherish this," Laura said with emotion as Stanfield read the proclamation out loud and presented it to her, along with a bouquet of flowers. (07/25/2014 - 6:00 AM)
La Follette Police hosting prescription drop off point
By Charlotte Underwood
Got unwanted, outdated, or unsafe prescription medications lying around the house? Bring them down to Terry's Pharmacy or Riggs Drugs on Saturday (tomorrow) July 27 from 10 a.m. till 2 p.m. and dispose of them safely. Outdated or unwanted over the counter medication can also be disposed of at the drop off points. The prescription drug drop off day is being held by the La Follette Police Department.
Police Chief Jimmy Jeffries said drop off days such as this are important to help the public safely dispose of unwanted medications that could otherwise prove harmful if in the wrong hands or even act as an attractant to thieves.
"We feel it is important to give the public an opportunity to safely dispose of medications," Jeffries said, explaining that flushing medication down toilets and drains was not a safe disposal method. Medications instead need to be incinerated at a very high degree of heat, which the city will do using the medication burn machine it purchased in 2008, according to Mayor Mike Stanfield.
"Over time people can sometimes end up with a lot of old and even unlabeled medications in their homes and it's important to properly dispose of those before some young kid gets a hold of them," Stanfield said.
The two drop off points are Terry's Pharmacy, located at 310 East Central Avenue in La Follette and Riggs Drugs, which is located at 502 West Central Avenue in La Follette. The drop off begins at 10 a.m. and goes till 2 p.m. this Saturday.
(07/20/2104 - 6:00 PM)
EARLY VOTING CONTINUES (click to see ballot)
Early voting is 9:00-7:00 Friday at Jacksboro and 2:00-7:00 at Jellico
Early voting totals from Thursday, July 24: 339 (six-day total is 2,026)
Finals '14 – The 2014 Election Returns from WLAF is presented by:
Attorney Greg Leach of Sexton, Sexton, and Leach Attorneys-Oneida 423.569.8341
American Cable in the Woodson Mall-Food City Center is your home for DISH
Since 1961, Litho-Craft Printing & Office Supplies on West Beech Street
Zach Sheets with Edward Jones Investments 423.566.4010
First National Bank 423.566.1624 - next to Subway on the four-lane
Beacon Finance "where pigs fly" on North Tennessee Avenue
State Farm Agent Tabatha Smith in the Fleet Building in La Follette
Attorney David H. Dunaway 423.562.7085
Holston Gases - click here and visit our website
Small airplane crashes at Deerfield
All's well that ends well. It was a tense few minutes this afternoon for all concerned. At 5:32 p.m., first responders raced to the Deerfield Community on Norris Lake in Campbell County responding to a plane crash. Officials tell WLAF that it ended up being a minor accident, and the lone patient (of four aboard) only required a band aid for one of his fingers. The plane crashed down in a wooded area near the runway of the Deerfield Airport on Championship Way.(07/24/2014/6:00 PM)
Hear Hatfield here
La Follette's Keith Hatfield, who grew up a stone's throw from WLAF, hosts his very own sports talk show Friday afternoons over his hometown radio station, 1450 WLAF. "Hatfield" as he's referenced by Tony Basilio cranks up his fun couple of hours on the radio every Friday from 1:00 p.m. until 3:00 p.m. on WLAF Welcome aboard, Hatfield! (07/24/2014)
Property Assessor's office staff to take part in state training
Property Assessor Brandon Partin is giving us a "heads up." Due to mandatory state training, the Campbell County Property Assessor's office will be closed all next week so its staff can take part in the state training which also includes office upgrades. Partin tells WLAF that the office of Property Assessor will be closed Monday, July 28 through Friday, August 1. Its last day of operation before training is today, Friday, July 25. The office reopens on Monday, August 4. (07/25/2104 - 6:00 AM)
CCSD, LPD, Tennessee Pot Eradication Team hit before marijuana harvest
If you've wondered what the helicopter circling Campbell County skies this week is doing, here's the answer. Looking for fields of growing marijuana. It's hot, it's late July, and it's almost time to harvest marijuana. Before the harvest, officers with the state's task force on marijuana eradication are on the lookout for the illegal crop.
Those officers along with help from the sheriff's department and La Follette Police confiscated more than a thousand plants that are street valued at more than a million dollars.
Sheriff Robbie Goins tells WLAF that "This is a prime example of how we can work together with local, state and federal agencies to accomplish our goals of punishing the dug suppliers and help diminish the drug flow in Campbell County. Our aim is to hurt their bottom line and keep these types of drugs out of our communities and schools. We are proud and thankful to work together in these rural areas and bring these resources to Campbell County every time we can."
(07/24/2014)
New era officially begins today for the CCHS Band program
Don Hendricks is retired. But like a doting grandparent, he'll be making frequent visits to check in on "his baby", the Campbell County High School Band Program. After leading the program for 39-years, its first, and until this year, its only director ever, Hendricks handed the reigns to a former student and one-time member of the Cougar Marching Band, Adam Wright. Wright smiles as he tells WLAF that he's thrilled for the opportunity and is pleased Hendricks will not be a stranger. The new band director explains that there were other chances to take over a program elsewhere, but that this is where he wants to be to continue what his former teacher and band director started way back in 1975, the first-year of Campbell High. This morning, the band's drum and flag corps members report for duty. The entire band checks-in Monday as the march toward the 2014 school year takes its first step led by Wright's very first drum major, junior Andrew Prim. Best to you Adam Wright and your Cougar Marching Band.
Granny's Old Fashion Café serves up home-cooked meals and hand-made desserts
By Charlotte Underwood
If good old fashioned home cooking and hand-made desserts are what you're hungry for, check out Granny's Old Fashion Café. Located up the valley, near the county line at 5782 Gen. Carl Stiner Highway, the restaurant opened just this past week. Granny's offers a large variety of breakfast, lunch and dinner menu items. From the traditional staples of burgers and fries to deli sandwiches, the restaurant also serves soup beans, chili, deep-fried tenderloin, chicken dinners, Ribeye dinners and much more. For the hotdog connoisseurs out there, Granny's has a deep fried hotdog with bacon and krout that is becoming a local favorite. Another favorite is fish-fries, according to the owners, who said an all-you-can-eat fish fry is planned for Aug. 8, beginning at 5 p.m. Customers can enjoy all the catfish, hushpuppies, fries, coleslaw and sweet or un-sweet tea they can eat and drink for $10, dine-in only. And don't worry about having a place to sit as the restaurant has seating and over flow capacity for about 200 people. Granny's also has daily lunch specials for $6.75.
Home to one of the best hamburgers around, Granny's Old Fashion Café also has a full menu of items including hotdogs, sandwiches, dinners, desserts and much more.
Owned and operated by three sisters who know the ins and outs of a kitchen, Granny's Old Fashion Café uses only the finest ingredients and choice cuts of meat.
"We purchase all of our meat from Hollingsworth Meat Market in La Follette and try to get the best to serve to our customers," said co-owner Thelma Welden. She and her sisters Alice Haulbrook and Janice Wilson run the restaurant and do all the cooking. Each has their own special area of expertise to round out the business. Haulbrook makes delicious and picturesque desserts, while Wilson's meatloaf and lasagna are supposed to be out of this world.
Granny's Old Fashion Café is located at 5782 General Carl W. Stiner Highway, about 10-minutes east of LaFollette in what used to be John D's old bar.
"We do Janice's meatloaf on Mondays and we can't make enough of the stuff to sell; we always run out of it," Welden said, adding that her other sister's cakes sometimes never even made it to the kitchen.
"She brought an apple cake in here and a customer offered her $25 on the spot and bought it before she could even carry it back," Welden said.
Whole cakes are available for purchase, with prices varying depending upon the cake, but orders must be placed one to two days in advance. Haulbrook also makes cobblers and pies and the restaurant offers hand-made milkshakes as well.
Welden enjoys cooking as well, but her favorite part of the business is the customers.
Home-made desserts are co-owner Alice Haulbrook's specialty such as the coconut, German chocolate and lemon cake pictured here. Whole cakes are available for purchase providing orders are made one to two days in advance.
"Alice loves to cook and bake and I love the customers," Welden said, adding that all three sisters learned their culinary skills from their mother, whom the café is named after.
"Our mother is 89 years old and just picked two bushels of beans," Welden said with a laugh, adding that the sisters also got their work ethics from their mother.
"We aren't here to get rich. We just want to provide quality food and friendly service to our customers and make living." The sisters invite the public to stop by and try the home-cooked food at Granny's.
Granny's Old Fashion Café is located 5782 Gen. Carl W. Stiner Highway where John D's bar used to be. For more information or to place an order call 423-377-5947. The business is open Monday through Saturday from 6 a.m. to 8 p.m. (07/24/2014 - 6:00 AM)
Long-time La Follette Police officer dies
By Charlotte Underwood
Retired La Follette Police Officer Paul Sweat passed away early this morning. The 73-year-old was a United States Army MP Veteran and had been a police officer for the city from 1977 through 1997, according to LaFollette Communications Supervisor Brenda Moses. Moses said she worked with Sweat during that time.
"He was a sergeant when he retired; he was a good sergeant and I wish we had him back," Moses said, adding that Paul had been the type of man who would give someone the shirt off his back.
Paul Sweat served as an MP in the Army and 20-years on the LPD force
"He probably wouldn't want anyone to know that side of him, but he liked to help people," Moses said, adding that she and him had "fit like cats and dogs on occasion, but always got the job done."
"He was almost like a big brother to me and sometimes he could be ornery as all get out, but he always got the job done and he kept his guys in line and was a great sergeant," Moses said.
La Follette Mayor Mike Stanfield said the city was flying its flags half-mast in honor of Paul and his family. The city will continue to fly its flags half-mast until Paul is buried, according to the mayor.
"He was just an all-around great guy. He was a good police officer and came from a good family and cared about the city," Stanfield said, adding that he wanted to remember Paul as he had been.
"I want to remember him from 30 years ago when we were all young, fit and healthy," Stanfield said, adding that Paul had been great friends with another officer Bob Ford, who had died several years ago.
"There's not a doubt in my mind that those two have crossed paths again in the last 24 hours and a friendship has been renewed," Stanfield said.
Services for Paul Sween Sweat are Friday at 8 p.m. at the La Follette Church of God. Reverend Mike Smith and Reverend Alan Shepherd and Chaplin James Dunn will be officiating.
The family will receive friends from 4 to 8 p.m. that day at the church. Interment will be at 11 a.m. on Saturday at Bakers Forge Cemetery with military honors given by the Campbell County Honor Guard. Condolences may be given at www.cross-smith funeralhome.com. Arrangements for the service are being handled by Cross-Smith Funeral Home and the complete obituary is found at the Obituary Link.(07/23/2014 - 4:30 PM)
Lasley, Mayes return to familiar territory
Ronnie Lasley's been the head football coach at Jellico High School once. And he's back. Chris Mayes once served as the assistant baseball coach at Campbell High School. And he's back. It's old home week for Lasley and Mayes as the two get set for their respective 2014-2015 seasons. Though Mayes does have a few more months to prep than Lasley.
New CCHS Head Baseball Coach Chris Mayes
Lasley has served as assistant principal at JHS the past few years, and now adds head football coach to his Blue Devil duties. Former Jellico Coach Brad Lawson has taken an assistant high school coaching position in Kentucky. Mayes left the Cougars in the summer of 2011 and has been Lenoir City's head coach until today. He steps in for Coach Ryan Browning who stepped down after two stints as CCHS's head baseball coach.
Jellico High School Football Coach Ronnie Lasley returns to the Blue Devils
Lasley was Jellico's offensive coordinator last season and served as the Blue Devils head coach from 2000-06 and had success leading the Blue and White to four Class 1-A playoff appearances in 2000, 2001, 2002 and 2004.
Jellico opens its football season on Friday, August 29 at home with Tri-Cities Christian. (07/23/2014 - 4:30 PM)
Sheriff reports
By Charlotte Underwood
La Follette man arrested on assault and false imprisonment charges
A La Follette man was arrested on domestic violence and false imprisonment charges after he allegedly held his ex-girlfriend against her will and assaulted her, according to a sheriff's report. Dustin Lee Pollitt, 33, was arrested on July 21 after officers received a report that he had assaulted his ex-girlfriend and held her against her will. After responding to the address where the altercation took place, Pollitt refused to answer the door. Officers got the landlord to open the door and took Pollitt into custody after speaking with the female and noting bruises, cuts and scratches on her from the altercation. Pollitt has a court date set for July 29.
Three arrested on drug charges at White Bridge
Three individuals were arrested on drug charges after a deputy on patrol drove by and noted they were acting suspicious and nervous. After stopping to check on the occupant s of the car, deputies learned the driver, Jason Craig Parks, 24, had a warrant for his arrest on a violation of probation charge. Deputies received permission to search the car and found two hypodermic needles and a bottle of Oxycontin 15 milligram in the back of the vehicle. Parks was charged with two counts violation of probation and possession of drug paraphernalia.
Rebecca Jean Rose, 35, of Caryville, and Mark Steven Seiber, 44, of Caryville, were both passengers in the vehicle and were charged with possession of drug paraphernalia.
(07/23/2014 - 6:00 AM)
State of the County - Mayor William Baird & Deputy Mayor David G. Young 07/22/2014
<>
Football practice is in full swing for nearly 100 youngsters
Football practice for youngsters in the CCYFA kicked off this week. Monday's practice for the Campbell County Youth Football Association signals the official start of football season for some 90 players.
As the players put on the pads, some 75 girls prep the pompons. The JV Hoppers, Hoppers, Cutters, and cheerleaders are counting down to the August 2 season opener at Anderson County High School.
Injured continue recovering this morning
A day and a half later, three Campbell County men continue recovering from injuries sustained in a Monday night wreck. The wreck that killed 43-year old Charles Morris of La Follette also sent three other men to the UT Medical at Knoxville by way of Lifestar. Conditions of the trio remain the same as on Tuesday. In serious condition is the driver of the pick-up truck from the single-vehicle accident, 42-year old Kevin Fleming of Jacksboro. Listed as critical are 39-year old Darrell Carroll of La Follette and 52-year old Carl Daughtery, Jr. of Caryville. Pictures and a related story are found further down this page.(07/23/2014 - 6:30 AM)
Services from the First Baptist Church of La Follette 07-27-14
<>
Campbell County Commission from 07/21/2014
<>
One man is dead. Three others remain hospitalized.
Charges are pending in Monday's fatal single-vehicle wreck. Trooper Joseph Brown tells WLAF News that last evening just after 7:00 p.m. in Caryville is when and where 42-year old Kevin Fleming of Jacksboro lost control while driving a 2004 Dodge Ram 2500 truck. The trooper details that Fleming, along with three passengers, was headed south on Patty Hill Road when his truck left the right side of the roadway near Ridge Road.
It's believed that drinking may have been a factor in the Monday night wreck on Patty Hill at Caryville.
Brown goes on to say that Fleming over-corrected to the left and traveled up an embankment. The truck then hit a tree, rotated left, and eventually stopped on its side, the right passenger side. Fleming was behind the wheel with 39-year old Darrell Carroll of La Follette riding shotgun. Carroll is listed in critical condition this afternoon in the Trauma Surgery Unit at UT Medical Center at Knoxville.
Tree that the truck struck.
Riding in the back seat behind the driver was 52-year old Carl Daugherty, Jr. of Caryville, who is also in the UTMC Trauma Surgery Unit in critical condition. The man who was seated in the back on the passenger side, the side the truck landed on, 43-year old Charles Morris of La Follette, died from his injuries.
Charles Jennings Morris
All four men were flown out by multiple Lifestar helicopters. Brown notes in his report that citations and criminal charges are pending against Fleming who Brown says was drinking while driving. Fleming is being treated in the Neuro Critical Care Wing and is in serious condition. Trooper Brown adds that none of the men was wearing seatbelts, and that it would have made a difference.
(07/22/2014 - 1:30 PM)
Commission freezes discretionary funds until new budget is passed
County commissioners voted Monday night to freeze the allocation of their discretionary funds until a budget has been approved, a move which would prevent any commissioners who are not returning to office from depleting the fund of their successor, as was done in many cases four years ago.
When the current group of commissioners took office in 2010, they discovered that several commissioners who had either retired or been defeated at the polls had distributed the entirety of their $4,000 in discretionary money intended for distribution to schools and non-profit groups.
As a result, most new commissioners had no funds to distribute for an entire year. The commission's initial reaction when the following year's budget was adopted was to abolish the discretionary fund completely, but they later reinstated it at a lower amount of $2,500 for each commissioner.
A resolution was then proposed limiting allocation to one-quarter of the total in each calendar quarter, but that resolution caused confusion among many commissioners.
County Attorney Joe Coker told commissioners Monday night that a motion by Rusty Orick would restrict the spending of any discretionary funds until a budget is passed, despite the fact that the county is currently operating under a continuing resolution that allows spending at last year's levels for most county operations.
Bobby White, one of three commissioners not running for re-election, agreed with that restriction, pointing out, "My intention is to not spend one dime of my discretionary fund."
The commission then voted unanimously to freeze the discretionary fund until a budget is approved.
Commissioners also voted unanimously to approve the proposed contract with Med Trans for setting up a UT LifeStar center at the Campbell County Airport. The rental proceeds received from Med Trans will be less than originally proposed because the site preparation for the helicopter pad and building will cost around $70,000 more than anticipated.
The extra costs are due to poor bore hole samples in the area of the proposed building, making it necessary to conduct some extensive earthmoving to prepare the site, according to a memo from Med Trans representative Scott Carroll.
Med Trans asked the county to pay for the site preparation by deducting the costs from Med Trans' monthly rent for a period of ten years. As a result Med Trans will pay $642 per month to the county and receive a $583 monthly credit toward the initial cost of site preparation. Campbell County will receive a little over half of the original offer of $14,700 a year for renting the space, but the building and all construction carried out by Med Trans will remain county property.
Thomas Hatmaker was the only commissioner to object to the proposal, protesting that the lower lease amount shortchanges taxpayers. In the end, Hatmaker voted along with other commissioners to approve the agreement, however.
The commission also voted unanimously to accept a proposal from commission secretary Peggy Henegar reducing her job to a part-time position for no more than fifteen hours a week. Henegar said that under the new arrangement, she will staff the commission meetings and workshops and other work as needed, but no longer open the commission office on a regular basis. She will no longer receive insurance or pension benefits as a part-time employee.
Commissioners voted to grant Henegar's request, expressing gratitude for her years of loyal service. Johnny Bruce, who chaired the meeting in the absence of Mayor William Baird, also expressed his gratitude for their service to three commissioners who are not returning for another term – White, Hatmaker and Beverly Hall.
Those three outgoing commissioners may still vote at the August meeting. Although scheduled after new commissioners have been elected, that meeting will take place before the new commission is sworn into office. (07/22/2014 - 5:00 AM)
It was a week of football-n-fun at Jacksboro Middle School last week. JMS Coach Mike Miller is pictured here with his staff and all the campers.(DAVID GRAHAM PIX 07/17/2014)
Cougar Coach Matt Housley's annual basketball camp was held last week at John Brown Gym.

(DAVID GRAHAM PIX 07/17/2014)

La Follette purchases extrication equipment; used twice already

By Charlotte Underwood

The La Follette Fire Department has used recently purchased extrication equipment twice already since putting the Jaws of Life into use at the beginning of June. The equipment, which was purchased through a La Follette Medical Foundation Grant, was used on two separate wrecks already, according to La Follette Fire Chief Gary Byrd. The equipment is strong enough to cut through most vehicles on the road and runs on a gasoline-powered hydraulic pump. The department used specialized jacks to help stabilize the wrecked vehicle while the extrication equipment is used.
A La Follette Firefighters holds a jack used to stabilize vehicles while the extrication equipment is used.
Byrd had approached the La Follette City Council about purchasing the equipment and getting firefighters trained several months ago. With the council's backing and a $34,000 grant from the medical foundation, the equipment was purchased and training commenced. According to Byrd, the entire fire department is trained on the extrication equipment. Seven members of the department are also cross trained as First Responders, meaning they can provide medical attention to the patient while waiting on the ambulance to arrive. Byrd said he has a goal to have the entire department trained as First Responders in about a year.
The drive behind the changes is to save lives and offer the same services that many other fire departments already provide.
"It's just a matter of keeping up with the times," Byrd said, adding that the training and equipment was a big plus for the city.
Mayor Mike Stanfield said the department's recent use of the equipment could have very well saved a life. He recalled in the past, driving up on wrecks and seeing firefighters and policemen standing there while waiting for the rescue squad to arrive and cut the patient out of the vehicle.
"When it's that type of situation and you can't do anything it's just terrible, but we aren't in that boat any longer. With this equipment and training, the firefighters can get the patient help much quicker. We want people to know that if they are out there and in an accident, we care and we want to help them. It will save lives," Stanfield said.
"When you use that equipment to cut someone out and get them on their way to the hospital, those seconds or minutes could mean the difference in life and death," Byrd agreed.
(07/21/2014 - 6:00 AM)
Saturday July 19th was Jerry Stout Day on Hatfield Knob of Campbell County
Terry Lewis, Brian Brown, and Bill Stanley prepare to unveil the monument bench
Charter members and founders of the Royal Blue Rocky Mountain Elk Foundation Terry Lewis and Bill Stanley unveil the Jerry Stout Memorial bench this morning in front of over 50 friends, family and members of TWRA despite the rain soaked surroundings. Bill Stanley prepared a short moving talk remembering the life and adventures of friend a partner in the foundation that all gathered to memorialize.
Bill Stanley Co-Chair of the Royal Blue Chapter of The Rocky Mt. Elk Foundation
Stanley emphasized in his talk that Jerry was a classroom teacher by profession but was a person who taught all of us there many things about life itself. Jerry continued to teach us all right up to the final days, commented Stanley as Terry Lewis removes the cover of a beautiful monument in Jerry Stouts honor.
Jo Stout the first to sit on the new bench thanks friends and supporters as some traveled from as far as Alabama
3rd Forum '14 - district 5 school board/commission & sheriff candidates 07/17/2014
Forums 1 and 2 are found further down this page
Jerry Stout memorial bench dedication set for Saturday morning
Saturday morning July 19 at 10 am at the Elk Viewing Stand on Hatfield Knob near La Follette, a bench will be placed in the honor of Jerry Stout who was the past chairman of the royal Blue Chapter of Rocky Mountain Elk Foundation. Stout passed away one-year ago following a battle with Alzheimer`s.
Jerry Stout (far right)
along with members of the Royal Blue Chapter of The Rocky Mountain Elk Foundation is pictured assisting with construction of Elk Viewing Sign on at Hwy 25W at the turn off.
Jerry was probably best known by many as a science teacher at La Follette Jr. High or Campbell County High School or maybe assistant principal at CCHS or principal at La Follette Middle, but Stout was heavily involved with hunter safety, search & rescue training, and was one of the original members of the local Rocky Mountain Elk Foundation committee which later led to becoming chapter chairman.
Stout was there and involved in the original elk release and from that point on was very active in the tracking of the elk heard. His early involvement with amateur radio (ham radio) proved to be a plus for the TWRA when it came to tracking and keeping up with the elk. Amateur radio club members often played a game of sorts by tracking radio signals to find an individual keying a microphone and transmitting a signal. Amateur radio operators would use antenna tracking devices to locate the person keying the mike. When the elk heard was released TWRA placed tracking collar with transmitters on them, and Jerry`s amateur radio skills played a big part in assisting TWRA in locating and keeping up with elk and especially when an elk that died as their collars transmitted a constant signal which had to be tracked.
Stout (blaze orange) opens the first trailer door at most recent elk release near Smokey Junction
Stout recently received a national award as volunteer of the year by the Rocky Mountain Elk Foundation at the national convention in Fort Worth Texas.
Stout enjoying the outdoors by the fire at the Big South Fork
The bench will be unveiled Saturday at 10 am and will be located at the elk viewing stand Jerry helped to build for the public to enjoy. (07/18/2104 - 10:00 AM)
1st Forum '14 - districts 1 & 2 school board/commission candidates 06/26/2014
2nd Forum '14 school board/commission districts 3 & 4 and mayoral 07/10/2014
ESPN-SEC Network airs in August
It`s about 90 days to the TENNESSEE VOL kick off on the new ESPN Network. If you are NOT using Dish Network you will not be watching. As of now Dish is your only option in Campbell County to see the new ESPN-SEC Network which begins August 14, 2014. See our local Dish Retailer "American Cable" in the Food City Center soon to be connected to the new SEC Network. Do not miss the Vols first two games of 2014. Visit them in the mall or click below. .... Free IPAD Mini offer to expire within days.
Click the cap to watch the 2014 CCHS Graduation Ceremonies