CLICK to listen LIVE to 1450 WLAF CLICK to watch LIVE WLAF-TV 12
NEW HOURS AT SMITH HARDWARE
Monday-Friday 7:30 AM - 7:00 PM...Saturdays 7:30 AM - 5:30 PM
Smith Hardware is NOW OPEN on SUNDAYS from 1:00 PM - 5:00 PM
Get the Time & Temp anytime, call 423.566.8463, a service of Terry's Pharmacy
WLAF's "Business of the Day" today is:
POTTERS HOME CENTER – now open next to Woodson Mall
Shop locally. It helps all of us.
Photo from home
Watch that next step, C-Hut! WLAF's Charlie Hutson shares his up close and personal look at the progress on the Beech Street Bridge. See more of C-Hut's snap shots further down this page.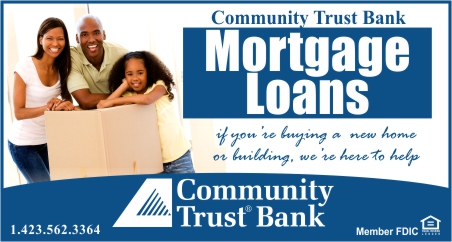 Goins, Nidiffer, Walden are the final three for DOS
Special called BOE meetings slated for Tuesday
The final field of candidates for director of schools is set. That is barring any issues with the background checks which is highly unlikely. Early this morning, the selection committee narrowed the short list of applicants from four to three. Those applying are Rita Goins, the supervisor of adult education, Larry Nidiffer, long time administrator and coach and current assistant director of schools, Sherry Parr, a former superintendent of schools from Dayton and a former Principal of the Year for the state of Ohio, and longtime administrator and current principal at Wynn School, Bob Walden. Goins, Nidiffer, and Walden made the cut. Parr did not make the final three but remains in the loop in the event one of the other three applicants does not pan out.
Tuesday, April 21, at 5:00 p.m., the Board of Education's contract committee is scheduled to meet to finalize the contract that will be offered to one of the three finalists. As it stands, heading in to Tuesday's meeting, the contract will be a three-year deal at an annual salary of roughly $105,000 with a year's salary buyout for early termination without cause. A one-year buyout, if it holds up, hits the school board's "good ole boy" system option like a ton of bricks. You may recall when several school board members, on two different occasions, tried to fire current Director of Schools Donnie Poston, without cause, then pay him $5,000, and send him on his way. Both times back fired when the community rallied around Poston, and then flexed their collective muscle at the polls last August. A full-year's salary buyout takes a lot of the petty politics out of the equation. It will be interesting to see which, if any, school board members balk at the proposed buyout clause.
Also on Tuesday, in a 6:00 p.m. meeting, the contract will be presented to the full school board for a vote. That's when the board will also vote to approve the final three director of schools applicants.
Both meetings are tentatively scheduled to be held at the courthouse unless there are scheduling conflicts with that venue.
The Board of Education will interview the final three candidates in sessions open to the public beginning on Friday, April 24 at 6:00 p.m. in the La Follette Middle School auditorium. The interviews will continue at 9:30 a.m. on Saturday, April 25 and again at 2:00 p.m. following a break for lunch.
The vote for director of schools is set for Monday night, May 4, with Tuesday, May 5, as the first official day for the new DOS. Retiring director of schools Donnie Poston plans to stay on for a few more weeks to assist in the transition for the new director. (04/18/2015 - 2:30 PM)

Vann case to be tried in Campbell County
Claiborne County circuit court clerk to assist
Lonnie Vann, who faces first-degree murder charges in the death of Rhonda Daughtery, will be tried at the Campbell County Courthouse at Jacksboro. However, District Attorney General Jarred Effler tells WLAF News that to err on the side of caution and to preclude any appellate issues in the future, the case has out-of-county assistance. Effler adds that given the unfortunate circumstances and unique situation, Claiborne County Circuit Court Clerk Jackie Rosenbalm will act as a pro-tem clerk safe guarding paperwork and communicating with potential jurors. Rosenbalm will have custody and control of all documents surrounding the Vann case and will travel to Campbell County for all facets of the trial. All stories, details, and pictures of the Vann case are found by clicking here.
(04/17/2015 - 5:30 PM)
WLAF's Charlie Hutson's been out and about with his favorite camera. Here are his latest snaps.
La Follette's Downtown Shell is expanding.
The Beech Street Bridge officially closed on March 24. This is the look almost a month later.
What began as Ned Russell's "Pick-Quick" Texaco Station in 1976 is soon becoming a donut shop. Quincy's Shoes occupied this building for the longest stretch.
Progress is being made for the new parking lot at the Senior Citizens Center.
Update on animal shelter
Campbell County Mayor E.L. Morton has an update for WLAF to pass along to you concerning the status of the county animal shelter.
Mayor's update on current work at the Adrion Baird Animal Shelter (4/17/15):
The Adrion Baird Animal Shelter is currently operating to provide the Animal Control functions required by state law and Commission funding. Cat control, adoption and rescue continue and have not changed. Our dog services are the area where we are working to improve, causing us to modify our services, which currently include euthanasia for sick, injured and dangerous animals. We have three quarantine spaces to observe bite dogs and house the sick and injured until a technician can come and relieve the suffering animal, usually within a couple of hours of arrival or less.
We also have the responsibility to accept stray and unwanted, owner surrendered animals. I want the public to understand however, we currently have no dog adoption and rescue capability while we are working to establish a clean and healthy shelter. That said, please exhaust all personal means to avoid healthy animal, owner surrender to our shelter. There are several rescue and foster organizations in our area and most have a web presence where you can ask for their help. Once animals are introduced to our shelter, most organizations will not accept them. Please keep in mind, the best means to prevent unwanted animals is to spay and neuter your pets.
As part of our improvement efforts, we are relocating our puppy operations to a room that is more isolated from the large kennel population. We are seeking funding for rolling stainless steel puppy kennels that are simpler to clean and more virus resistant. Cost ranges from $2400-4000 so resources are difficult right now, but we are working to get the kennels.
The probation we currently operate under can be considered by the state board of Veterinary Medical Examiners in August of 2015. I intend to ask our probation be lifted then and have a fully operational shelter that will facilitate adoption and rescue operations. I do not have control over advocacy groups and their choice to affiliate with our shelter, however I know of an effort by one group to build a business plan for our shelter and I will certainly consider any suggestion for improvement. We now have 4 board certified euthanasia technicians that ensure compliance even when weather is dangerous, like we saw in February and March. I will continue to invest in training and improved cleanliness and protocols that ensure the safest and healthiest shelter we can produce.
Taxpayers provide $138K annually to pay three part-time and one full time worker and fund operations that consume considerably more. We are thankful for the food and supply donors that help make up the difference. We are seeking a large donor like our neighbors in Claiborne and Knox counties enjoy in their programs. We are working to establish a credible shelter that can attract those donors.
(04/17/2015 - 4:00 PM)
E.L. Morton (US Army Retired)
Mayor
Campbell County, Tennessee
423-562-2526
countymayor@campbellcountygov.com
Newest "neighbor" is here!
Like a Good Neighbor, Lizzie J is here! Elizabeth June Smith arrived at 6:01 p.m. on Thursday, April 16, 2015. Lizzie J's mamma is WLAF's North 5th Street neighbor, State Farm Agent Tabatha Smith. Lizzie J. comes in at 21-inches, 6 pounds and 11 ounces. Congratulations to Ma and Pa Smith from WLAF!
Fiscally Conservative Balanced Budget Passed By House Of Representatives
Budget cuts taxes, fully funds education, moves an additional $73.5 million to Rainy Day Fund

In the final few days of this year's legislative session, the House of Representatives passed Tennessee's annual budget with an 80 - 12 vote. It also passed in the Senate 32 to 1 making this the budget from the Legislature for Tennessee. The bill's passage was the culmination of months of tireless work crafting a fiscally responsible and balanced budget. The $33.3 billion budget cuts taxes, puts $73.5 million in the state's Rainy Day Fund, improves our educational system, and provides an even better environment for businesses to grow and for jobs to flourish.

Representative Dennis Powers (R-Jacksboro) said "When I was elected to office by the people of Campbell, Anderson and Union Counties I was asked by my constituents that Tennessee be fiscally responsible with their tax money." Rep. Powers continued "It is my belief that the 2015-2016 budget holds true to that principle while ensuring Tennesseans get the services they expect from state government."

Dennis Powers who serves on the State Insurance and Banking Full and Sub Committees added, "As Washington, D.C. and other states are mired in partisan gridlock and out-of-control spending, Legislators in Tennessee have made responsible decisions that will continue to ensure the state is positioned to be a top leader in the country on jobs. Since January of 2011, over 225,000 new private sector jobs have been created in Tennessee."

Highlights of the 2015-2016 budget include:

K-12 and Higher Education Investment
A large portion of this year's budget focuses on education, including funding for K-12, higher education, and proposals designed to build on the Drive to 55 program-an effort to raise the percentage of Tennesseans with a degree or certificate beyond high school from 32 to 55 by the year 2025.
For K-12 education, the budget includes nearly $200 million, including:
* Funding of the Basic Education Program (BEP) formula;
* $100 million dollars for increasing teacher salaries, which amounts to a 4% pool that education associations will have available as they make local decisions to increase teacher pay;
* Funding to begin the process of repealing and replacing current Common Core educational standards in the state with a system based solely on Tennessee values and ideas;
* And $5 million to create the Educators' Liability Trust Fund to offer liability insurance to Tennessee teachers at no cost to them.
Notable higher education investments include:
* $260 million for capital projects, including new science facilities at Jackson State Community College and the University of Tennessee, nearly $25 million for improvements to colleges of applied technology across the state, and funding for a fine arts classroom building at East Tennessee State University;
* $25 million to fully fund the Complete College Act formula;
* And $10 million for need-based scholarships for students.
The budget also includes specific workforce development investments geared toward moving forward with the state's Drive to 55 efforts, including:
* $2.5 million for statewide outreach efforts for adult students and technical assistance to local communities that are finding ways to support adult learners;
* $2.5 million to support the success of the SAILS (Seamless Alignment and Integrated Learning Support) program which addresses remediation in high school;
* $1.5 million to establish the Community College Reconnect Grant pilot program to provide last dollar scholarships for adults with some post-secondary credit to attend community college;
* $1 million to establish competitive grants to two-year and four-year institutions to develop initiatives specifically designed for veterans;
* And $400,000 to establish the Tennessee Promise Bridge Program (TPBP), which will bring first-generation college students to campus prior to fall enrollment, which is one more step in making sure they have the best chance possible to succeed. The TPBP will work in conjunction with the main Tennessee Promise plan.
The main Tennessee Promise Program, set to being this fall with the class of 2015, provides high school graduates the opportunity to attend a community or technical college free of tuition and fees. It is both a scholarship and mentoring program that provides last-dollar scholarship dollars that cover costs not met from the Pell, HOPE, or TSAA scholarship programs. While removing the financial burden is key, a critical component of the Tennessee Promise is the individual guidance each participant will receive from a volunteer mentor who provides guidance and assistance as the student enters higher education. In addition, under the program, students are required to complete eight hours of community service per enrolled term, as well as maintain at least a 2.0 GPA.
Job Recruitment, Workforce Development & Tax Cuts
Building on the success of other job-related legislation passed during the 108th General Assembly, the budget this year again makes investments in job recruitment and tax reforms.
Notable items include:
* A cut in the Hall tax for seniors 65 and older. The Hall tax is imposed on income derived from interest on bonds, notes, and stock dividends. Since enactment of the Hall tax in 1929, the use of investment savings has grown as a primary source of retirement income. Because of this fact, Republican lawmakers argue the Hall tax is actually an income tax, especially for seniors living on a fixed income. The Hall tax cut approved in the budget raises the income exemption level from $33,000 to $37,000 for single filers and from $59,000 to $68,000 for joint filers. Lawmakers hope to continue building on this tax cut in the future, eventually eliminating it completely;
* Making Tennessee's tax structure more competitive with surrounding states by changing the way a multi-state company's income and net worth is taxed for franchise and excise purposes;
* A continuation in funding of the state's FastTrack Infrastructure and Job Training Program which aids businesses across the state in securing funding for expansion projects and ensuring employees are trained to their fullest potential;
* An increase in funding to Tennessee's nine regional development districts to help local governments implement important infrastructure projects and recruit new business;
* And continued funding to recruit and develop the state's film and television industry which has steadily grown in recent years and helped bring in millions of film and tourism dollars.
In addition, the 2015-2016 budget includes other strategic capital investments statewide that will help fund programs to ensure Tennesseans have the skills needed to obtain well-paying, 21st century jobs after graduation.
Other Budget Highlights
Other highlights of Governor Haslam's 2015-2016 budget include:
* $73.5 million dollars for the Rainy Day Fund to bring it to $568 million total in the account;
* $250,000 for regional food banks in the state;
* $1 million for capital improvements to the state's accredited zoos in Knoxville, Chattanooga, Memphis, and Nashville, as well as the Tennessee Aquarium;
* $500,000 for statewide methamphetamine cleanup programs;
* And, a continuation of property tax relief efforts passed in previous years to help veterans, seniors, and the disabled population of Tennessee. (04/17/2015 - 5:30 PM)
Reagan on radio! Reagan Murray makes her radio debut.
'Diamond Dave' Graham had a new broadcast partner for Thursday's game against the Scott Highlanders. Miss Reagan Murray filled in for 'Joltin' Joe' Monroe during WLAF's coverage of Campbell Cougar Baseball. Reagan is the daughter of Matt and Ashley Murray.
Reagan Murray attends Valley View School
Cougar Ryan Harmon had a big day on the mound while Tate McGhee thrilled the crowd with a three-run homer over the left field wall. Campbell shutout Scott 8 – 0.
Young Campbell County man dies in pond crash
Was missing for several days
Authorities told WLAF on Wednesday afternoon that they feared they'd found John Sellers. In the end, they had. Now officials confirm that the young man, who lived not too far from a pond in Newcomb, was found in his car, submerged in the muddy water. The 27-year old Sellers had been missing since last Thursday until signs of a wreck were discovered around lunch time yesterday. One officer calls it nothing but a tragic accident.(04/16/2015)
Car pulled from a pond in northern Campbell County
THP leads the investigation
WLAF awaits the official report this morning from the Tennessee Highway Patrol about Wednesday afternoon's discovery of a car in a pond at Newcomb. Not long after lunch time yesterday, signs of a car wreck on Highway 297 near Brick Plant Lane drew police to the pond where an underwater camera spotted the submerged car.
Car that was pulled from a north Campbell County pond Wednesday
No official word yet if there was a body in the vehicle. Local authorities along with the Tennessee Highway Patrol are working the accident.
(04/16/2015 - 6:00 AM)
Showroom Shine can spring clean your vehicle
By Charlotte Underwood
Steven Holstein cleans one of the many boats that rely on him each spring
It's time to spring clean your truck car or boat. If you're ready to wash winter off of your vehicle, then call Showroom Shine where pickup and delivery are part of the package. Specializing in detailing, Showroom Shine has multiple packages and cleaning options to fit your budget and needs.
Showroom Shine is up on the hill across from LUB (North Tennessee Avenue)
For the last four years, the business has been owned and operated by Steven Holstein.
Cars, trucks, vans, boats, and more – call on Showroom Shine to make 'em shine
Packages include an inside cleaning job at a cost of $15. An outside wash costs $10 and Showroom Shine currently has a spring special of an inside and outside clean plus a wax for $45 which is $5 off the wax job. This includes vacuuming and tires.
Holstein considers Showroom Shine's pick-up and delivery service a real perk for his customers
More thorough packages include the full detail which is all of the above plus shampooing seats and upholstery all at the great value of $75. The biggest package offered is the Extreme detail which is when the seats and carpet are actually removed and everything gets and extreme clean. This costs $125 and usually takes a few days. So whether your vehicle needs a little clean or an extreme clean, give Showroom Shine a call at 423-437-2977. The business is located at 102 W. Iron Street in La Follette between the train trestle and the offices of the La Follette Utility Board.
(04/16/2015 - 6:00 AM)
Court date for survivor from Starrett's fatal car crash reset
David Muse to appear in court in May
The survivor from the car crash that ultimately killed Jacksboro Detective Mike Starrett on Jan. 23 was set to appear in court on Tuesday, though proceedings in that case have been postponed until May 14.

On Friday afternoon, January 23, Starrett was responding to a fatal car crash at Little Cove Road and Highway 116 in Caryville when he and David Muse collided head on, as Muse was reportedly didn't yield to emergency traffic.

THP ultimately charged Muse with failure to maintain control and failure to exercise due care. Starrett succumbed to his injuries on Jan. 30 at the University of Tennessee Medical Center.

Muse's attorney, Kristi Anderson, is reportedly going to ask General Sessions Judge Amanda Sammons to recuse herself from that case. WLAF will provide details from that motion as soon as they become available.
(04/15/2015 - 3:30 PM)
Campbell County School Board makes history
Board member takes part in meeting via Skype
There was a bill passed by the state to allow elected school board members to participate in meetings remotely. Last night, for the first-time ever in Campbell County, the option was exercised by a school board member. Second District School Board Member Homer Rutherford, in his fifth term on the board and not in the best of health, participated in Tuesday night's meeting via Skype. Board members are limited to two times a year to remotely take part in meetings.
(04/15/2015 - 3:00 PM)
Crime reports for April 15, 2015
Malfunctioning lights end in DUI charge for Rogersville man
By Beth Braden
A deputy on patrol ended up arresting a man after a traffic stop on April 10.
Campbell County Sheriff's Deputy Franklin Ayers was traveling east on General Carl Stiner Highway when he reportedly saw a 2000 Cadillac STS with a burned out driver's side headlight and taillight heading the opposite direction.
Jordan Scott Proffitt (COURTESY CAMPBELL COUNTY SHERIFF'S DEPARTMENT)
Ayers turned his car around and began following the Cadillac. While he was running its registration, the vehicle allegedly swerved across the center line two times. At that time, Ayers initiated a traffic stop and he encountered Jordan Scott Proffitt, 24, 2015 Brown Drive, Rogersville, behind the wheel. Proffitt allegedly had slurred speech and dilated pupils and Ayers reported a slight odor of marijuana coming from the vehicle.
Proffitt allegedly told Ayers he had consumed synthetic marijuana while driving and subsequently performed poorly on field sobriety tests, reports indicated. Police also recovered drug paraphernalia in the car, including rolling papers and one pill.
Proffitt was arrested and charged with driving under the influence, violation of the light law, violation of the financial responsibility law, possession of drug paraphernalia and possession of a schedule VI controlled substance.
(04/15/2015 - 3:30 PM)
Man arrested after nearly striking officer with car
By Beth Braden
A Duff man gained his 11th booking at the Campbell County Jail after he nearly struck a police car head on last Thursday night.
Campbell County Sheriff's Deputy James McCall was reportedly traveling westbound on Fir Street in LaFollette when he had to swerve to avoid a head-on collision with another vehicle. When he turned his car around, McCall reportedly observed the other vehicle traveling on the wrong side of the road and initiated a traffic stop.
Jonathan Darrell Morris (COURTESY CAMPBELL COUNTY SHERIFF'S DEPARTMENT)
McCall identified Jonathan Darrell Morris, 26, 5207 White Oak Road, Duff, as the driver of the vehicle. Morris allegedly had watery, bloodshot eyes, slurred speech and was slow to respond to requests for his driver's license, registration and insurance.
Morris, who reportedly performed poorly on field sobriety tests, allegedly told McCall that he'd consumed marijuana about an hour before the traffic stop.
Morris was arrested and charged with failure to exercise due care and driving under the influence, second offense.
(04/15/2015 - 3:30 PM)
One jailed for his role in late March burglary
By Beth Braden
One man was jailed after police discovered he allegedly assisted another man in stealing $2,3330 worth of property from a home on Thacker Lane.
Travis Jamal Parks

(COURTESY CAMPBELL COUNTY SHERIFF'S DEPARTMENT)

According to the Campbell County Sheriff's Office, Travis Jamal Parks, 24, 405 College Hill Road, LaFollette, drove another man to Thacker Lane to allegedly break into the home and then went with him to Caryville Fast Cash and sold some of possessions, records indicated.

Parks was arrested and charged with aggravated burglary and theft of property $1,000-$9,999.

(04/15/2015 - 3:30 PM)

School board discusses new Director's contract, bus transportation problems

The school board's "contract committee" has set the terms of a contract for the new Director of Schools, once the board has agreed on who will get the job.

The new director will be paid an annual salary of $105,000, equal to the amount currently paid to Director Donnie Poston, for a three-year contract period. Renewal of the contract will be subject to an annual performance evaluation. If the person hired holds a doctorate degree, the base salary may be higher, subject to negotiation.

In the event that the board chooses to terminate the contract without cause, the new Director will receive a buyout payment equivalent to one year's salary. If termination without cause occurs during the third and final year of the contract, the buyout amount will be decreased to one-half of the remaining salary in the contract.

These terms were announced at the school board's monthly meeting Tuesday night, along with the interview schedule for candidates. The screening committee will meet this Saturday at 9:00 a.m. in the central office to review applications and choose three candidates to recommend to the board.

The Board of Education will then interview the final three candidates in sessions open to the public beginning on Friday, April 24 at 6:00 p.m. in the La Follette Middle School auditorium. The interviews will continue at 9:30 a.m. on Saturday, April 25 and again at 2:00 p.m. following a break for lunch.

Not all board members were in agreement on the proposed terms of the contract, Johnny Byrge telling the board that he was uncomfortable with the buyout terms, which appeared to him to be excessively high.

Director Donnie Poston took the opportunity Tuesday night to remind the board that it was the fourth anniversary of his tenure as Director of Schools.

"Tonight is my fourth anniversary as Director and it's been a sweet journey," Poston said. "I appreciate the support I've received from the community, the educators and the children. We need to get in the mindset of doing more to help our children and I believe we are ready to take it (the school system) to the next level."

The board proceeded to deal with mostly routine business, approving school trips, budget amendments and bids for a variety of expenditures as well as approval of the textbook committee's recommendation for new math textbooks for all levels. Homer Rutherford, who has been absent from most recent meetings due to health problems, was able to attend the meeting from home via Skype, with board secretary Gail Parks recording his vote on various motions.

The topic of bus transportation took up much of the last part of the meeting, as Byrge commented that he had heard numerous complaints about transportation, particularly the excessive time some children must spend between leaving home in the morning and returning after school.

Principals in the audience agreed, with some children at Jacksboro Elementary School arriving at school at 6:30 a.m. and not leaving until 4:15 p.m. The principal at Elk Valley told the board that the first children attending her school were picked up at 6:05 a.m., which she insisted was "way too early." She added that the children who had to be at school as early as 6:15 "have never been proficient in TCAP testing – they're worn out."

Supervisor Larry Niddifer agreed that the early hour is a problem for many children, but pointed out that the early schedule is partly due to a need to give every child the opportunity to eat breakfast. "Many would not have breakfast if we couldn't feed them at school," he added.

Niddifer told the board that an updated transportation survey might help find ways to rearrange routes and trim some travel times. "The University of Tennessee conducted a transportation survey many years ago and that is still the schedule we operate with. We need a new survey as populations have shifted around the county," he explained.

Buses out of service due to mechanical problems also cause delays, Niddifer observed. School buses are allowed by the state to operate for 18 years with no mileage limits but are subject to more frequent safety inspections in the final three years of service. Still, problems occur with the older buses. "The system could use a bus or two on standby that we could lease to a bus operator if needed," he added.

(04/15/2015 - 6:00 AM)

LaFollette man charged after church break-in, scuffle with police

By Beth Braden

Initial reports of a man holding a weapon and chanting at the intersection of Grantsboro Road and Leroy Day Lane lead to a multitude of charges for a LaFollette man.

Campbell County Sheriff's Deputy Matthew Wasson responded to a call last Thursday (April 9) where he encountered a shirtless Travis Scott Nelson, 34, 154 Leroy Day Lane, LaFollette. As Wasson responded to the call, another 911 caller allegedly told dispatchers Nelson was responsible for breaking into Grantsboro Baptist Church, reports said.

Captain Jeremy Goins attempted to make contact with Nelson who was allegedly "very aggressive and belligerent," according to reports. Nelson allegedly told Goins to shoot him before walking towards the officer with clenched hands. Goins deployed a Taser, hitting Nelson in the chest.

Nelson was reportedly unaffected by the Taser and pulled the weapon's prongs out of his chest before continuing his alleged scuffle with officers.

After placing Nelson under arrest, further investigation reportedly revealed that there was "severe damage" to the Gransboro Baptist Church. The front door was damaged, as was the pulpit, altar and podium. Nelson allegedly broke one window, as well as Christian and American flags. The electrical meter was reportedly broken off the building and the church sign letters were scattered around the parking lot.

His alleged belligerence continued as he reportedly swore at all officers on the scene and proceeded to break a window and cell door lock at the jail upon his booking.

Authorities were unable to take a mug shot of Nelson due to his behavior and he has been referred for further mental health evaluation at an outside facility, according to Chief Deputy Aaron Evans. His bond is set at $40,000.

Nelson was charged with burglary, vandalism greater than $1,000, resisting stop/frisk/halt search, assault, desecration of a venerated object, possession of a schedule VI controlled substance and possession of drug paraphernalia.

This was his first booking at the Campbell County Jail.

(04/15/2015 - 6:00 AM)

Further details released in weekend stand off

By Beth Braden

Deputies from the Campbell County Sheriff's Office reportedly found several weapons when the standoff and subsequent pursuit of a Jacksboro man was finally over on Saturday night.

Deputies were dispatched to 573 Hiwassee View Drive, Jacksboro, after Gary Simpson Finch, 62, allegedly hit his wife and fired a weapon at his stepson after a disagreement about chores, reports indicated.

Finch was reportedly threatening to kill any officers who came to the home, according to an affidavit from Deputy Franklin Ayers. The SWAT team was dispatched and surrounded the home, though Finch managed to leave the residence in a vehicle.

Ayers reportedly saw a truck believed to be Finch's on Pinecrest Road and attempted to make contact with him. It allegedly took two attempts before Finch stopped the vehicle and emerged.

When Ayers searched the vehicle, he reportedly found a loaded .40 caliber high point assault rifle with a miss fed round. Ayers found another full loaded magazine for the rifle, according to reports. Finch also allegedly had 11 marijuana cigarettes in the vehicle.

He was arrested without further incident and charged with felony evading arrest, violation of the light law, possession of a schedule VI controlled substance, failure to exercise due care, reckless endangerment, violation of Tennessee's financial law, possession of a firearm in commission of a felony, aggravated assault by domestic violence and reckless endangerment. Finch remains in the county jail this morning on a $100,000 bond.

This was his second booking at the Campbell County Jail.

(04/15/2015 - 6:00 AM)

Upcoming CCHS events

WLAF to televise graduation live

The Campbell High prom is coming up on Saturday, May 2, at the Expo Center at Knoxville. Tuesday night, May 12, at 6:00 p.m. is Senior Awards Night in the high school auditorium. The Orange-n-Blue spring football game is Thursday, May 21 at 7:00 PM at Dossett Stadium.

Graduation 2015 is set for the Tex Turner Arena on the LMU campus at Harrogate on Saturday, May 30, beginning at 10:00 a.m. WLAF will televise graduation "live" over www.1450wlaf.com. (04/10/2015 - 3:30 PM)

La Follette Middle School "Students of the Month"

Each month, the La Follette Middle School tabs six students as "students of the month." That's two students from each grade, 6-8. Click here to see the most recent "students of the month." (04/10/2015 - 7:00 AM)

Caryville Council Meeting

The Caryville Board of Mayor and Aldermen regular meeting was held on Monday April 13th. All board members were present with 16 people in attendance Monday night. After normal procedures, new business, including the cutting of hay at the city's Industrial Parks, was approved. Recycling and janitorial bids were approved as well. Also approved was the hiring of Anthony Branum to the Caryville Police Department. Branum is on a 90-day probation. The I-75, Exit 141 (north Caryville exit) re-development was discussed and is on pace for completion.

(04/14/2015 - 6:00 AM)

Commission to begin budget review, but sales tax referendum still in the air

Brad Holt is new ambulance director

County commissioners will get their first look at a projected general fund budget next Monday, and may discuss whether to schedule a special election on a half-cent increase in the local sales tax to help pay for it.

Marie Ayers asked that the sales tax referendum be placed on next week's commission agenda, but support for the idea was far from enthusiastic. When Ayers suggested taking a straw vote to see if the commission supported the idea, several commissioners voiced objections.

"I'll support the effort but I feel it will be in vain. The public will not vote a tax on themselves," Cliff Jennings observed.

"My intent is for the sales tax to go to pay for roads," Ayers pointed out..

"A tax for roads won't succeed. City dwellers won't support it," Jennings replied.

Scott Stanfield said he wanted to look at the budget and possible cuts to spending before discussing a tax increase, but Ayers reminded everyone, "I made a motion last year to cut $500,000 across the board from the general fund but when they (county employees and officials) packed the courthouse you all backed down."

"I don't want to fund roads without also looking at county employees, who haven't had a raise in years," Butch Kohlmeyer added.

Ayers reminded everyone about the deteriorating condition of county roads but the discussion ended without the straw vote, and whether there is enough support to place a sales tax on the ballot remains in question.

Mayor E. L. Morton found himself defending his decision to choose William "Brad" Holt as the new ambulance director when Whit Goins asked where Holt had previously worked. Several comments from ambulance service employees in the audience could be heard, most of them with negative tones.

"I intend to appoint the best people I can and Mr. Holt is fully qualified," Morton responded as he assured commissioners that he would follow past policy and hire the new EMS director under a 90-day probationary period.

Robert Higginbotham announced that the Jail Committee and Sheriff Goins have scheduled a public opening of the new justice center for 5:00 -7:00 p.m. on Thursday, April 30. Ironically, one more problem with the center's design also came up, as commissioners learned that one corner of the jail section leaves windows too close to the ground and a higher security fence will be needed at that location.

The jail committee scheduled a meeting for 4:30 next Monday to discuss the problem and determine what action should be taken and whether the costs should be the responsibility of the county or the architect.

Jennings asked to add another topic to the meeting agenda, to look at the possibility of finding a couple of acres of county-owned land that could be set aside for a Campbell County veteran's cemetery.

"We have no burial site for veterans. I would like for us to look at the property the county presently owns and see if there is a place that would be suitable for that purpose," Jennings said.

Stanfield asked about the status of the Delapp Cemetery, which was officially dedicated several years ago as a Civil War Cemetery. County Attorney Joe Coker pointed out, however, that the Delapp Cemetery is not a public cemetery but is on private property.

Mayor Morton announced that he is recommending PM Environmental as the firm to administer the federal Brownfield Grant that the county has been awarded to carry out environmental assessments on potential industrial property.

John Hargraves from PM Environmental attended the meeting to answer questions about the Brownfield Grant Program. According to Hargraves, $400,000 in grant money is available to Campbell county, the only county in the state to qualify in the current year.

The grant will pay for the cost of test wells and other subsurface surveys that must be performed in order to remove contaminated soil or debris from former industrial sites, junkyards or other locations that might be revived as sites for new industry. In some cases, he added, the grant could pay for removal of contaminated materials.

Joe Coker asked if the Brownfield funds could be used in a case where a former meth house had been located but burned down, leaving the site still under a meth quarantine.

"Yes," Hargraves replied. "We even have a meth assessment specialst."

Unfortunately, the Brownfield Grant cannot be applied to another county environmental headache, the continued contamination problem at the county animal shelter.

Mayor Morton reported that currently, the shelter is being utilized for animal control but not for adoption because of continuing contamination with the Parvo Virus.

"We need to establish a Parvo-free shelter before we can resume pet adoptions," Morton pointed out, explaining that the highly contagious virus is difficult to eradicate and lingers in drains and other areas for long periods. The virus has a high mortality rate, especially in puppies, and has caused pet adoption agencies to suspend adoptions from Campbell County until the shelter is free of the contamination.

"If we can't fund a shelter that we can keep up, there is a diminishing return to keeping it open," Morton direly predicted. He added that the shelter's primary function is animal control, and it is still functioning fully in that capacity, as a holding area for stray dogs or animals that have bitten people.

(04/14/2015 - 6:00 AM)

Court's a bust this session

By Beth Braden

What was supposed to shape up as a busy day in Campbell Count's criminal court was largely subdued as several high profile cases were continued until next month.

Lonnie Vann was expected to appear, but that is postponed until May 4 "due to circumstances," Judge Shayne Sexton announced. If the case is set for discussion before that date, the media will be notified by the district attorney's office, Sexton said.

Monica Briggs as well as Eric and Nikita Morton won't reappear in court until May 26 when their statuses are again discussed. Briggs is the surviving suspect in the Kenneth Koster murder from last September. The Mortons are accused of scalding their then three-year-old, Zander Brown.

Attorney Mike Hatmaker was on the docket to argue motions on behalf of Lisa Elliott, the former special education teacher from Jellico who was charged with shooting her boyfriend in 2014. Hatmaker opted not to make any motions, and district attorney Jared Effler informed the court of plans to use an enhanced crime scene diagram and transcript of the Feb. 2, 2014, 911 calls as exhibits in Elliott's trial.

That trial is currently slated for May 6, just three weeks from now. (04/13/2015 - 3:30 PM)

Friendly face in a familiar place
She's baaaaack. Terina Brown invites you to come see her at State Farm Agent Tabatha Smith's office (former John R.W. Brown office) in the Fleet Bdg.
Today marks four months in Daugherty disappearance
More than 200 strong have assisted in search
It was four months ago this evening when searchers and hounds first scoured the hills, creeks, and brush areas around the Daugherty home in the Coolidge community. And so it began. The search for Rhonda Kitts Daugherty. Since December 2, 2014, a man has been arrested and charged with her murder even though her body is yet to be found, a grandchild of Rhonda's has been born, and she lost her father to cancer. Four short months in a sense, but for a family, community, and searchers, it's been a lifetime.
Today marks Day 122 in the search for Rhonda Daugherty
Investigators tell WLAF News that some of the best people, in their professions, in the country have been to Campbell County offering assistance and expertise. Case in point Gene Ralston from Idaho who, along with his wife Sandy, has helped recover upwards of 100 drowning victims for families all across America. Gene Ralston was on Norris Lake for a couple of weeks searching with sonar, and word is he's coming back to help again in the hunt for Rhonda. The Ralstons have participated in the high-profile searches for Laci Peterson and Natalee Holloway. Along with the Ralstons, more than 200 professionals from across the country, region, every neighboring county, the FBI, TBI, the Campbell County Sheriff's Department, and others have been involved. The bulk of time spent in the search has been concentrated on Norris Lake in the Heatherly's Point and Sugar Hollow areas. Improving weather and the procuring of additional resources will allow the search to pick up its pace in the days ahead.
When Rhonda Daugherty's family came home on the evening of December 2 and saw that the back door to their home was ajar, and that she had not taken her morning medicine, they knew something was bad wrong.
District Attorney General Jarred Effler explains to WLAF News that everything in this case is active, and that it's still an on-going investigation much as it is with most cases of this nature. The General notes that it's unfortunate that cases such as this one do take time.
The man charged in the disappearance and murder of Rhonda Daugherty is 44-year old Lonnie Vann of Jacksboro. Vann was arraigned in criminal court February 23 on the additional charges of aggravated robbery, kidnapping and especially aggravated kidnapping. His next court appearance is April 13 when he will have a status hearing regarding all charges.
He is currently being represented by appointed counsel through the public defender's office. For security and safety purposes, Vann is being held in the Knox County Detention Center on a $1 million bond.
(04/02/2015 - 6:00 AM)
Coach King's Corner
Coach Vic King left us in November 2014. In honor and memory of him, we've created a "Coach King's Corner." Click Coach's picture to access Coach King's Corner. (03/23/2015)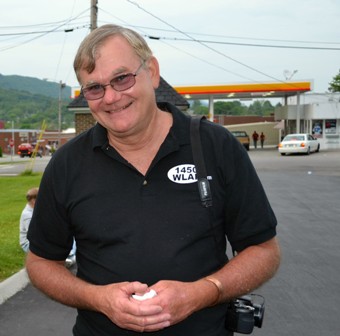 This picture of Coach was snapped by Charlie Hutson on Friday, May 17, 2013, in front of the former Regions Bank (where La Follette Junior High/High School once stood). It was where the 60th anniversary of WLAF was celebrated.