CLICK to listen LIVE to 1450 WLAF CLICK to watch LIVE WLAF-TV 12
Smith Hardware OPENS at 7:30 a.m. Monday - Saturday
TERRY'S TIME & TEMP Line 423.566.TIME…566.8463 (a service of Terry's Pharmacy)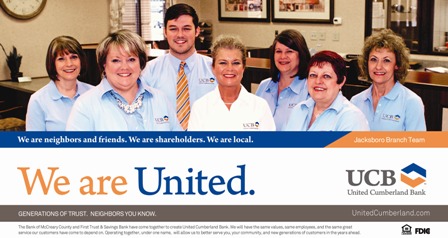 Photo from home
From the "can't wait" category...Three weeks from tonight, the Cougars open the 2014 football season. CCHS kicks off at Cumberland Gap on August 22 at 7:30 p.m. WLAF has all the coverage. (DWANE WILDER PIX)
Cougar Days CORRECTION
On Monday, August 4, seniors and juniors are only required to report for paperwork pick up only (parking passes, schedules, etc.) Senior times are 8:00 a.m. until 11:00 a.m., and the time for Juniors is noon until 3:00 p.m.
(08/01/2014 - 7:00 PM)
Cougar Days signals the start of school is near
Whether you're a green horn-freshman or a big man on campus-senior, the start of school for high schoolers is nearing. Tuesday, August 5 is a full day just for the sophomores. That's from 8:00 a.m. until 11:00 a.m. and then noon to 3:00 p.m. For freshmen, Wednesday is your day. On August 6, freshmen have a complete day ahead of them beginning at 8:00 a.m. and breaking at 11:00 a.m. and then returning for a stretch from noon through 3:00 p.m. The next week, on Wednesday, August 13, sophomores, juniors, and seniors need to attend from 8:00 a.m. until 1:00 pm. while freshmen only report Friday, August 15 from 8:00 a.m. through 1:00 p.m. The first full day of classes for all Campbell High students is Monday, August 18.
(08/01/2014 - 7:00 PM)
Cougar Days

Monday, August 4
Seniors: 8:00-11:00
Juniors: 12:00-3:00

Tuesday, August 5
Sophomores: 8:00-11:00
12:00-3:00

Wednesday, August 6
Freshmen: 8:00-11:00
12:00-3:00

Students come only to pick up schedules and paperwork. This will only take a few minutes. Students do not stay on these days.

Wednesday, August 13
Sophomores, Juniors, and Seniors report for an abbreviated day. They attend from 8:00-1:00.

Thursday, August 14
In-service day. Students do not attend.

Friday, August 15
Freshmen only report for an abbreviated day. They attend from 8:00-1:00.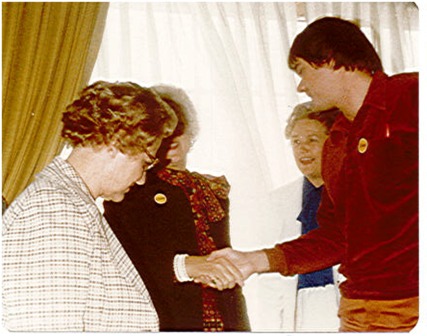 Hear Hatfield here
Listen to the new Tennessee Sports talk show called "Show Cause" with La Follette`s Keith Hatfield heard here on WLAF & broadcast out of the Basilio Studio in Knoxville, Tennessee every Friday from 1 pm to 3 pm.
Fundamentalist Missionary Baptist Church celebrating 35 years
By Charlotte Underwood
The Fundamental Missionary Baptist Church is celebrating 35 years of ministry this Sunday. Thirty-five years ago on July 26, the church began in downtown La Follette. Today the church is located at 597 Wildwood Circle and has an anniversary celebration planned for this Sunday.
In 1979, the church was originally located in a store-front building on the corner of East Central Avenue across the street from Cross-Smith Funeral Home. The church was there approximately for almost two years, according to Pastor Larry Russell, who said he started the church because he was compelled by God.
"The Lord had really burdened my heart to establish a new work here in La Follette, Tennessee, to try to win souls for the honor and glory of Jesus Christ and try to get them saved so they could have a new and abundant life," Russell said.
Over the years, Russell has seen the church move and grow into what it is today.
"We have got to see several souls saved over 35 years and been blessed in so many ways. When we started, we had no money, all we knew was that God wanted us to start this church, but God blessed us and provided for the church. Volunteers came in and lay block and did masonry work to build the church. I will never forget those guys who came in and helped us," Russell said.
He said his father who was a skilled carpenter, was also very instrumental in getting the church built.
Around 1987, a new addition was added onto the building and then again in 2001, another edition was added onto the front of the church, including a new video room and auditorium expansion. New restrooms and a small nursery room were also added.
Russell said none of this would have been possible without the Lord.
"God blessed us to be able to do this. It seemed like every time we would need something the Lord would provide it; we just walked by faith. The most important ministry of this is to save souls and spread the love of Jesus Christ. We have had good times and times of sorrow, but it has been worth it all," Russell said, adding a special invitation to others to come and worship at the Fundamentalist Missionary Baptist Church and celebrate with them on Sunday.
The church is located at 597 Wildwood Circle. The anniversary celebration begins Sunday morning at 10:30. Lunch will follow. (08/01/2014 - 3:30 PM)
QB Ethan Jeffers poses on CCHS picture day this morning
Marking a milestone at the ministry
Open Arms Ministry Food Bank celebrates its 25th anniversary on Saturday. OAM has been helping to feed hungry families in Campbell County since 1989. You are invited to the celebration tomorrow from 11:00 a.m. until 4:00 p.m. at the food bank across from the National Guard Armory in Jacksboro. There will be plenty of food plus live music as well as free gift bags for the youngsters.
(08/01/2014 - 6:00 AM)
Vote for Danny Wilson for Register of Deeds
Early voting winds down this weekend
For some, it's been a quick two-weeks since early voting began on Friday, July 18. But just ask an election commission office employee or a candidate, and you may be told that it's been a long two-weeks. Either way, early voting ends tomorrow with election day next Thursday, August 7th. Early voting hours today at the election commission office at Jackboro are 9:00 a.m. until 7:00 p.m. while voting hours at city hall at Jellico are from 2:00 p.m. until 7:00 p.m. The hours are the same at both voting locations on Saturday. That's 9:00 a.m. through 1:00 p.m. tomorrow. A more detailed story on early voting is found further down this page.
(08/01/2014 - 6:00 AM)
Early voting numbers move past 3,000
From here, it looks like early voting numbers may easily pass the 4,000 mark come Saturday's final day to cast your ballot. Based on that, there could well be around 12,000 total votes by this time next Thursday night. That's taking into consideration that early voting is generally about one-third of the final count. Early voting hours run until 4:00 p.m. this afternoon at Jacksboro and until 2:00 today at Jellico. Looking back to Wednesday, there were 323 votes cast bringing the total through 11 days to 3,568. That represents a shade more than 16% of the active voter total of 21,864 voters. Early voting runs through this Saturday, August 2. At Jacksboro, the poll is open Friday from 9:00 until 7:00 p.m. North side voters may vote at Jellico Monday from 2:00 p.m. until 7:00 p.m. on Friday. Both Jacksboro and Jellico early voting precincts are open 9:00 a.m. until 1:00 p.m. on Saturday. Election day is Thursday, August 7. You're invited to join Jim Freeman, Zach Walden, and Coach Vic King as WLAF provides complete election coverage beginning election night at 7:30 p.m. over radio, television, internet, Facebook, and Twitter. . CLICK HERE TO SEE THE COMPLETE BALLOT.
Early voting totals: July 18-446, July 19-202, July 21-355, July 22-350, July 23-300, July 24 – 339, July 25 -461, July 26 – 176, July 28 – 267, July 29 – 303, and July 30 - 323. (07/31/2104 - 1:30 PM)
CLICK here to see "State of the County 2" from Mayor William Baird and Deputy Mayor David G. Young (from July 29, 2014)
EARLY VOTING CONTINUES (click to see ballot)
Early voting is 9:00-1:00 Saturday at Jacksboro and at Jellico
Finals '14 – The 2014 Election Returns from WLAF is presented by:
Attorney Greg Leach of Sexton, Sexton, and Leach Attorneys-Oneida 423.569.8341
American Cable in the Woodson Mall-Food City Center is your home for DISH
Since 1961, Litho-Craft Printing & Office Supplies on West Beech Street
Zach Sheets with Edward Jones Investments 423.566.4010
First National Bank 423.566.1624 - next to Subway on the four-lane
Terry's Pharmacy of La Follette & Jacksboro - walk-in, drive-up, or we'll deliver
Beacon Finance "where pigs fly" on North Tennessee Avenue
State Farm Agent Tabatha Smith in the Fleet Building in La Follette
Attorney David H. Dunaway 423.562.7085
Holston Gases - Jacksboro - 423.562.7596
The Gray Insurance Agency where "Nationwide is on your side"
Community Trust Bank, building communities built on trust
David Bales Buick GMC - locally owned & operated by the same family since 1966
Since 1933. Our name means a great deal. Bowman Jewelers at Traffic Light 8.
Leather and More open for business
By Charlotte Underwood
A shop specializing in motorcycle accessories, parts, décor and much more has opened up for business in La Follette just in time for the summer riding season. From leathers and helmets to handlebars and seats, Leather and More has it or can order it, according to owner Larry Swick.
New and used leathers can be found at Leather and More.
"We deal in just about everything that has to do with the bike or the rider; there's very little that I can't order," Swick said, explaining that specialty orders were sort of the shop's specialty.
The shop does have a selection of new and used leathers, helmets, saddlebags, handlebars and more on site, but just about any item can be ordered or even custom ordered, according to Swick.
Heavenly Gifts is located inside Leather and More and deals in religious-themed gift items.
Decorative items such as Harley Davidson themed candles, plates and clocks and key chains are also popular items available at the store. The shop is also in contact with a leather worker who can make all kinds of things, including custom saddle bags whether for a motorcycle or a horse. A large shipment of dude rags and gloves will be arriving at Leather and More soon.
For more information or questions about specialty orders, call Larry Swick at 423-494-9421.
Swick said he opened up the shop because he loved motorcycles.
"I've been riding bikes since I was 15; when I was 17, I had a Harley Electraglide with the suicide shifter up by the gas tank, I loved that bike. I've pretty much had a bike my whole life," Swick said, explaining that the shop was an extension of that and had always been a dream.
Leather and More carries decorative Harley Davidson themed items such as plates, clocks, candles and more.
His wife followed a dream of her own and started a business attached to Leather and More called Heavenly Gifts, which sales bibles and other religious inspired gifts.
A large selection of helmets are at Leather and More and if the shop doesn't have it, owner Larry Swick said he should be able to order it.
"We can also get helmets and jackets and such with the cross symbols on them," Swick said.
The store has lots to choose from and even more to order.
"If you can put it on your bike or put it on your body, then we should be able to get it."
New and used saddlebags and sissy bar bags are available at Leather and More.
Leather and More is located at 803-2 West Central Avenue in La Follette next to J.R.'s Tires. It is open Tuesday through Saturday from 9 a.m. to 5 p.m. For more information or questions about specialty orders, call Larry at 423-494-9421. For Heavenly Gifts call 423-494-6013.
Keep in mind that we each purchase, at either business, you will receive a free gift. (07/31/2014 - 6:00 AM)
Police called to quiet attorney squabble
The call came in just before 3:00 p.m. this afternoon that two attorneys were fighting. Deputies were called to the upstairs courtroom at the courthouse at Jacksboro to find two attorneys in what officials describe to WLAF News as "verbal chatter." One officer tells WLAF that while the judge was out of the courtroom, opposing attorneys Steve Hurst and Kristie Anderson began exchanging words. That's when officers were called. The pair of attorneys was in court representing a couple in a custody dispute.
(07/30/2014 - 6:00 PM)
Tornado clean-up in progress; could take weeks
By Charlotte Underwood
The roof from Jim Mullens home was scattered up in trees and along a fence row. The van and antique hay rake that had been parked behind his house was moved about 150 yards away. His was one of two homes in the county declared a total loss. The tornado left the small bird house mounted on a pole beside his home perfectly intact.
He had just left his home when the tornado hit. He said from looking at the house afterwards there is no doubt in his mind had they been home they would have been killed.
Brush and other debris are piled along Old Highway 63 going up the valley. The county highway department has already hauled away over 80 loads of brush.
"There's no way we could have survived the damage. The debris, the condition of the house, we couldn't have survived, but we are all healthy and that's all that matters; houses can be rebuilt," Mullens said the day after the storm.
Mullens was among the 10 or so property owners who sustained damage to their homes located along the Campbell and Claiborne County line when the EF3 tornado ravaged the area on Sunday evening.
From uprooted trees, to ripped off roofs and collapsed barns, hundreds of thousands of dollars of property damage was done by the tornado, which was about a half-mile wide, according to the National Weather Service. Now that the storm is over, the clean-up process is in full-swing, as is the damage evaluation process.
While some property owners are making smaller claims like water damage and roof damage such as missing shingles, others are reporting total losses.
Tony Malone with the Highway Department works to cut a tree up off of Doaks Creek Road. Inmate workers supplied by the Campbell County Sheriff's Department, along with other volunteers have been aiding the county highway department in cleaning up after the tornado.
Because of the severity of Sunday night's storms, insurance company Farm Bureau set up a Catastrophe Response Unit from Lenoir City in Campbell County on Monday.
Farm Bureau Claims Representative Mark Brown said the company was in the process of getting claims filed so the people could get the help they needed to start rebuilding.
"Anytime you have damage like what was done on Sunday, it will most likely get this unit activated," said Brown, adding that adjustors were still receiving claims from the area and that it was still too early to have a monetary number as far as damage went.
According to insurance adjustors, local utility company workers and just about anybody else you ask, there hasn't been a storm of this magnitude in the area for years. The tornado snapped electric poles resulting in mass power outages. According to La Follette Utility Department General Manager Kenny Baird the number of power outages was upwards of 4,000 at the height of Sunday's storm and tornado. That's close to a fifth of LUB's 22,000 total number of customers. Baird said crews have worked feverously to erect more than 12 power poles, clean up wire, conduct safety checks, and restore power non-stop since the first calls came in around 6:30 p.m. Sunday evening.
According to Emergency Management Director Jay Muncy, two houses were declared a total loss; three others sustained major damage, while the remaining four reported minor damage. The largest part of the clean-up is centering on the mass amount of broken branches and downed trees.
"We have a lot of debris that has to be hauled away; it will probably take weeks, Muncy said.
Despite all this damage, not one injury was reported.
"It truly was a miracle; all you have to do is go and look at the damage that was done and the fact that no one got hurt is a miracle," said County Mayor William Baird.
(07/30/2014 - 3:00 PM)
Volunteers and agencies extend aid for tornado victims
Volunteers and local agencies have arrived in the county to help clean up after the storm and provide aid to tornado victims. From a retired group of veterans called the Rubicon Team to volunteers from Mennonite Amish community in Middle Tennessee, people from all over are extending helping hands to those who need it in our community. Local restaurants have sent food and Home Depot has even sent tarps, water and garbage bags to help with the clean-up effort. County Road Superintendent Dennis Potter's crews have been working endlessly to remove brush and La Follette Mayor Mike Stanfield offered the city's street department crews and trucks to help as well. The night of the storm, members of the La Follette Police Department were out after dark operating chain saws and removing trees. The Campbell County Sheriff's Department has provided aid in various ways as well, including inmates who have been busy clearing brush since Tuesday.
Three days after the tornado struck, areas along the Campbell and Claiborne County line still look like a warzone.
"I bet they've already hauled off over 80 loads of brush," said Glennis Monday with the Campbell County Sheriff's Department.
While clean-up efforts continue, volunteers who have traveled to the area to help are being housed at the old West La Follette School where showers and living quarters of a sort have been set up to make their stay more comfortable.
"People have really pulled together to help one another during this devastating time which has affected some of our residents," said County Mayor William Baird, adding that all of the local agencies had worked together wonderfully to make it "as easy as possible for those who fell victim to the tornado to get their lives back together."
During this time of devastation, Baird said several agencies are offering aid to those affected by the tornado.
The East Tennessee Foundation program Neighbors to Neighbors is providing small grants varying from $100 to $500 to help tornado victims with their immediate needs, such as food or clothes.
Members of Christian Aid Ministry out of Monticello, Kentucky help clean-up debris after Sunday's tornado. Volunteers have come from all over to offer aid to the communities in need.

"It's pretty devastating to have your whole life change and everything you own gone in just a matter of minutes; these agencies want to help where they can," Baird said.

Katie Moore with the Tennessee Housing Development Agency (THDA) is expected to arrive in the county today to travel to the tornado site to assess the damage and make a report. According to the county mayor, THDA has a program called Rebuild and Recover which will help pay for whatever the insurance companies don't cover on up to 25 houses.

Tornado victims needing aid from the East Tennessee Foundation can contact Trudy Hughs toll-free by calling 1-877-524-1223. Those needing assistance from the Tennessee Housing Development Agency can contact Katie Moore at 1-865-210-7591.

(07/30/2014 - 3:00 PM)

Sales tax holiday is almost here

Tennessee's 10th annual Sales Tax Holiday is scheduled for Friday, August 1st through Sunday, August 3rd, 2014. During the three day tax holiday, shoppers can save on tax free clothing, school and art supplies, and computer purchases.

The holiday begins at 12:01 a.m. on Friday and ends at 11:59 p.m. on Sunday. During the designated three day weekend, shoppers will not pay state or local sales tax on select clothing with a price of $100 or less per item, school and art supplies with a price of $100 or less per item, and computers with a price of $1,500 or less.

For more information, please visit tntaxholiday.com. The Tennessee Department of Revenue also assists consumers via e-mail at salestax.holiday@tn.gov, and through its toll-free hotline, 1-800-342-1003. Exempted items include:

• Clothing: Shirts, dresses, pants, coats, gloves and mittens, hats and caps, hosiery, neckties, belts, sneakers, shoes, uniforms — both athletic and non-athletic, and scarves.

• School supplies: Binders, book bags, calculators, tape, chalk, crayons, erasers, folders, glue, pens, pencils, lunch boxes, notebooks, paper, rulers and scissors.

• Art supplies: Clay and glazes, acrylic, tempera and oil paints, paintbrushes for artwork, sketch and drawing pads, and watercolors.

• Computers: Laptop computers, desktop computers, tablets, central processing units (CPUs), along with various other components including monitor, keyboard, mouse, cables to connect components, and pre-loaded software.

(07/30/2014 - 1:30 PM)

"Stand-off" suspect pleads guilty to theft over $10,000

By Charlotte Underwood

The man who allegedly had a two-day stand-off with the Campbell County Sheriff's Department pleaded guilty to theft $10,000 to $60,000 in criminal court this week. James Clifford Thomas, 34, was sentenced to three years for the theft which occurred in early June. However, when Thomas was arrested, it violated a 10-year probation he had been given in July of 2013 for previous burglaries, thefts and vandalisms. The recent violation voided his 10-year probation and turned it into a 10-year jail sentence, according to court officials. Since the judge ordered the sentences to be served concurrent rather than consecutive, Thomas is supposed to serve 10 years, rather than 13. According to criminal court officials, Thomas has been remanded to the Tennessee Department of Corrections to serve his sentence.

After a stand-off with the Campbell County Sheriff's Department in which he refused to come out of his mother's house, Thomas was arrested on June 8 and charged with theft over $10,000, vandalism over $5,000, two counts of felony evading arrest, two counts of operating an ATV on the road, two counts of violation of the helmet law, two counts of driving on a revoked license, resisting stop, halt, frisk orders, possession of a schedule VI controlled substance and possession of drug paraphernalia.

After his June arrest, Thomas filed a $750,000 lawsuit on the sheriff's department and county, saying his civil rights had been violated. Dave Dunaway is his lawyer in the case.(07/30/2014 - 6:00 AM)

EARLY VOTING CONTINUES (click to see ballot)

Early voting is 9:00-4:00 Thursday at Jacksboro and 9:00-2:00 at Jellico

Finals '14 – The 2014 Election Returns from WLAF is presented by:

Click on the corporate partner line to see their commercial

Attorney Greg Leach of Sexton, Sexton, and Leach Attorneys-423.569.8341

American Cable in the Woodson Mall-Food City Center is your home for DISH

Since 1961, Litho-Craft Printing & Office Supplies on West Beech Street

Zach Sheets with Edward Jones Investments 423.566.4010

First National Bank 423.566.1624 - next to Subway on the four-lane

Beacon Finance "where pigs fly" on North Tennessee Avenue

State Farm Agent Tabatha Smith in the Fleet Building in La Follette

Attorney Dave Dunaway 423.562.7085 - 97th Celebration at La Follette Church of God

Holston Gases - Jacksboro - 423.562.7596

The Gray Insurance Agency where "Nationwide is on your side"

Community Trust Bank "building communities built on trust"

Sheriff and police reports

By Charlotte Underwood

La Follette man arrested for burglary

On July 26, a La Follette man was arrested on burglary charges after La Follette Police Officers received a call about a burglary in progress on Rose Hill and arrived to catch the man with a box of VHS movies in his hands. When Emanuel S. Peters, 47, saw officers approaching, he allegedly dropped the box of movies and took off running down the hill. Officers caught him about 75 yards away and had to use force to detain him, the police report said. When officers had first came on the scene, there were two juveniles with Peters, with one of the juveniles carrying a black trash bag. According to the report, Peters had gone into the house and came back out with the box and the trash bag which contained movies, a scale, a flashlight, two cable boxes and an iron. The juvenile holding the trash bag told officers Peters had asked him to hold it.

Peters was charged with aggravated burglary, evading arrest, resisting arrest, theft under $500 and criminal impersonation as well as he did not give his true name or date of birth when he was first arrested.(07/30/2014 - 6:00 AM)

Duff man arrested for stealing copper

Duff man Samson Joseph Marlow, 28, was arrested on July 25 after sheriff's deputies received a report that he and another man were stealing cable from a La Follette Utilities job site in White Oak. When the deputy arrived on the scene, he stopped the two men who were still walking from the job site. A witness identified the men as those who had stolen the copper and also showed the deputy a cell phone photo of the theft in progress. Marlow was charged with theft of property $500 to $999 and vandalism over $1,000.(07/30/2014 - 6:00 AM)

La Follette man arrested on drug charges

La Follette man Robert Ray Martin, 45, was arrested on July 29 after deputies observed his vehicle stopped in the middle of the road on Oak Grove Lane impeding the flow of traffic. When the deputy pulled in behind him, Martin pulled into a driveway on Oak Grove Lane and jumped out of his vehicle to meet the deputy. According to the report, Martin was acting nervous and appeared to be somewhat unsteady on his feet as he told officers he had gotten lost looking for his friend's house. After getting permission to search Martin's vehicle, deputies found a black back pack containing 11 round peach colored pills believed to be Opanas. A hat in the vehicle also contained a Ziploc bag with four more small round peach pills, as well as four small blue pills and one small green pill believed to be Oxycodone. Martin has a court date set for Aug. 8.

(07/30/2014 - 6:00 AM)

Peel is the new JMS coach. Miller moves on to Jellico.

Jacksboro Middle School has a new head football coach this morning. He is Brent Peel, a longtime JMS assistant. Former JMS Head Coach Mike Miller is now Jellico High's top assistant coach on newly named JHS Head Coach Ronnie Lasley's staff. This coaching domino effect began a couple of weeks ago when, then, JHS Coach Brad Lawson left the Blue Devils to take an assistant high school coaching job in Kentucky. Peel, who starred on a couple of Carson-Newman's national championship teams back in the 1980s for the legendary Ken Sparks, is keeping the rest of the JMS staff intact. WLAF's David Graham's interview with Coach Peel airs on Wednesday's Sports Report on WLAF Radio and Television as well as on www.cougarsrock.net.

(07/29/2014 - 6:00 AM)

Habitat Re-store seeks new location; everything currently half off

By Charlotte Underwood

After learning it was losing its lease, the Habitat for Humanity Re-store located in Woodson's Mall is currently seeking a new location to set up shop. In the mean-time, everything in the store is 50-percent off, according to store manager Jeanne Smith, who said the store would be open from 9 a.m. to 5 p.m. through the rest of the week until Saturday. Volunteers will use Sunday and Monday to pack up what's left until another location can be found. They have until Aug. 6 to be out of the space.

Smith said she in no way blamed landlord Rob Woodson, who had been "more than kind."

"I don't blame Rob a bit; he has been so good to us the past nine years letting us be here rent free; he had the opportunity to sign a ten-year lease on the space and that's just business," Smith said.

The Habitat for Humanity Re-store needs about 4,000 square foot of space to set up shop again, according to Smith who said it would be great if someone wanted to help them out and lease space as a tax write-off or even a partial tax write-off.

"We could pay some rent, but we are limited," Smith explained, adding that she and the other Habitat volunteers hoped to be settled into a new space as quickly as possible.

For more information or to contact Smith about possibly leasing space to Habitat, call 423-201-0572 or 423-566-2031. (07/29/2014 - 6:00 AM)

Chickens in the city?

By Charlotte Underwood

Chickens in the city or no chickens in the city? That is the question a recent poll conducted by La Follette officials attempted to answer. The results of the poll were shared during a city council workshop held yesterday evening. Codes Enforcer Stan Foust announced the results to Mike Stanfield and Vice Mayor Joe Bolinger, as they were the only members of the council present at the workshop. According to Foust, poll results showed 92 property owners were against chickens in the city, while 12 voted yes. There were also 22 votes cast that were disqualified due to the voters not living in the city. Of those disqualified 17 were no votes, while five were yes votes, according to Foust.
Mayor Mike Stanfield and Vice Mayor Joe Bolinger were the only two members present at yesterday evening's La Follette City Council Workshop. Results of the chicken poll were briefly discussed and placed on the agenda for next week's meeting, which was moved to Aug. 4.
La Follette resident Jean Hopkins had brought the issue before the council several months ago when she petitioned the city to allow her to keep six laying hens in a coop. Hopkins argued that the city's ordinance does not prohibit the keeping of chickens and that it states a permit from the city's health officers is required. City Codes enforcer Stan Foust said chickens are not allowed in the city, especially in the residential zone Hopkins lives in and that if changes are made, it has to come from the city council. Foust also said he believes allowing chickens to be kept in the city will result in problems of various sorts. Foust said he believes the chickens will attract coyotes and other wild animals into the city. He also said if an exception is made for chickens, then it won't be long before other exceptions are sought.
"People will want to keep goats and horses in the city next," Foust said in an earlier city council meeting. Hopkins said she begs to differ and that if city's as large as Knoxville can successfully pass and maintain an ordinance which allows and regulates chickens, then La Follette should be able to do the same thing. A committee consisting of Hopkins, Foust, council woman Ann Thompson and Councilman Bob Fannon had been appointed to review the issue and issue the poll.
Poll results and the continuing issue of whether or not chickens should be allowed to be kept in the city will be placed on next week's agenda.
Other business discussed during the workshop which will also be included on next week's agenda is the contract regarding the proposed ice skating rink La Follette voted to help rent for the holidays. Stanfield asked if the city's insurance covered the skating rink. City Attorney Reid Troutman said the insurance company would need to be contacted and would have to provide in writing that the city would be covered.
It was also decided to hold the Tuesday Aug 5th meeting on Monday, Aug. 4 so it does not interfere with the National Night Out event being held in downtown.
(07/29/2014 - 6:00 AM)
Court appearance reset for those connected in child's death
By Charlotte Underwood
The couple charged in connection with three-year-old Gabriella Orton's death had their court appearance reset for Oct. 27.
Joshua Adam Comer, who is charged with first-degree felony murder, and Amber Leann Orton-Resentez, who is charged with aggravated child abuse and neglect, were both scheduled to appear in criminal court Monday morning to have their case set for status. When Judge Shayne Sexton called Comer's name, his lawyer, Dale Potter approached the bench and said there had been some kind of miscommunication or mix-up and that Comer had not been transferred from Hawkins County where he is being held in custody. Potter also described how difficult it would be for those representing Comer for him to be located four hours away. Sexton suggested Comer's lawyers make a motion that he be housed closer to Campbell County in Knoxville. Potter said he would file such a motion as soon as possible. Sexton said he anticipated on ruling in favor of that motion, but not before speaking with the Campbell County Sheriff.
"He may have a reason for him being housed so remote and far away," Sexton said. Assistant District Attorney General Scarlet Ellis said she believed Hawkins County had just been one of the county's willing to house Comer.
Despite being held in Campbell County, Orton-Resentez also had her case re-set for Oct. 27 as the two are being tried together.
The state turned over initial discovery to the defense Monday morning, including 8,000 pages of information and 50 CDs of various interviews from the investigation.
The state is seeking the death penalty in Comer's case and Orton-Resentez's charges are a class A felony, punishable by a minimum of 15 to 25 years in prison, according to District Attorney General Lori Phillips-Jones. Comer remains in custody on a $1 million bond and Orton-Resentez remains in jail on a $750,000 bond.
Gabriella Orton was brought to Tennova Medical Center on June 2 where she was pronounced dead. Preliminary autopsy reports indicated severe child abuse, leading the district attorney general to convene a special-called grand jury to indict both Comer and Orton-Rezentes. (07/29/2014 - 6:00 AM)
Jason Crabb to perform at La Follette Church in August
Jason Crabb will be headlining the 97th Celebration weekend at the La Follette Church of God in August. The three-day event begins on Friday, Aug. 15, with Crabb's performance slated for Saturday, Aug. 16 at 7 p.m. He will also provide praise music that Sunday.
It will be his second performance in the area. Over 900 people attended Jason Crabb's first concert when he appeared for a fundraiser on behalf of the Christian Academy of Campbell County. Seating is limited so get your tickets soon. All proceeds from the concert sale go exclusively to the La Follette Church of God. Tickets cost $20.
Before his concert appearance on Saturday, Crabb will appear at Gifts From Above for a book signing of his book "Trusting God to Get You Through," lessons that he said he learned through the fire about grace, loss and love.
Everyone is invited to a book signing to meet and greet Jason Crabb on Saturday, August 16 beginning at 1:00 p.m. at Gifts From Above located immediately West of the La Follette Church of God where he will perform in concert later that evening.
J.B. and Tina Purdie, owners of Gifts From Above, gifts and bookstore, have opened their doors and are welcoming the entire La Follette community to join them as a part of the 97th Celebration Weekend featuring Jason Crabb, as well as the new rising trio of Highroad III and Dr. Mark Williams, for whom Crabb will be providing the opening praise music the following day on Sunday, August 17.
One ticket for $20.00 will provide entry for all three concerts beginning Friday, August 15, Saturday, August 16, and Sunday, August 17. Tickets for the 97th Celebration Weekend may be purchased at Gifts From Above, 1926 Jacksboro Pike, La Follette, La Follette Church of God, 1906 Jacksboro Pike where the concerts will be held, or from the South Fifth Street law offices of Dave Dunaway, who is in charge of the fundraising event on behalf of the La Follette Church of God. Tickets may also be purchased online from iTickets/Christian Happenings. The event, which is now online, may be accessed as follows: http://www.iTickets.com/events/328803.html.
All proceeds from the sale of tickets will go to the La Follette Church of God. Seating is limited, tickets are limited, and Pastor Sonny Wilkes encourages everyone that is interested to purchase their tickets to ensure a seat for this wonderful three-day event. Doors will open at 6:00 p.m. on August 15 and 16 and 10:00 a.m. on August 17. (07/29/2014 - 6:00 AM)
One family's home is spared
Brian Hatmaker's always been a storm lover. And Sunday evening at 6:05 p.m., he and his family lived through a very scary twenty-seconds of what looks to've been either straight-line winds or a tornado.
You can see the top of the red family car that was not damaged
Hatmaker was outside when he heard and saw trees snapping and falling all around him. He quickly ducked back into his home of almost a month and huddled with his wife and daughters in the bath tub.
Trees in the storm's path were snapped on the other side of the Hatmaker's home
He says his excitement to be in the middle of a storm of this magnitude quickly turned to concern for his wife Amanda and their daughters, Kateline age 11 and 6-year old Kayla.
WLAF's David Graham & Jim Freeman visit with storm victim Brian Hatmaker
<>
Hatmaker tells WLAF that the wind blew from the northwest right next to his home on Lumber Lane in Flat Hollow near the Claiborne County line. Once he realized the worst was over and everyone was safe, thoughts quickly turned to Heather, their Jack Russell dog.
The Hatmaker's driveway
Luckily, Heather had hunkered down in her dog house and was OK.
The huge fallen tree is to the left of the family car, Heather's dog house, and the Hatmaker home
Countless trees were knocked over, torn in half, or like the 80-footer, about 20-feet from the Hatmaker home, knocked flat down.
(07/27/2014 - 10:30 PM - DAVID GRAHAM PIX)
La Follette Police hosting handgun safety classes
By Charlotte Underwood
The La Follette Police Department is hosting free handgun safety classes on Monday evenings beginning today at 4 p.m. and running through Aug. 25. The class will be a basic handgun familiarization and safety course open to the general public free of charge, according to La Follette Police Chief Jimmy Jeffries.
The inspiration behind hosting the class came from the fact that the police department and police in general often get asked a lot of questions about firearms and also a general concern that some may own guns but not be very familiar with them.
"There are people who may go out and purchase a gun after hearing about some of the bad things that happen on the news and then they get home with that gun and perhaps tuck it into a dresser drawer and never touch it again; we want to help the public familiarize themselves with the weapon they have purchased as a courtesy and to help prevent possible accidents that could result from a lack of gun safety information," Jeffries said.
Each two-hour class is designed to give the student basic familiarity with their handguns, as well as pertinent safety information on handling, usage and storage of the weapon.
"Some people get a gun and may not have ever even fired it," Jeffries said, adding that this class would be especially good for someone who needed a basic handgun course.
La Follette Mayor Mike Stanfield said he too felt the class was needed and was glad the police department was undertaking such a civic task.
"I think it is great that they are doing this. If you are going to own a gun, then it is important that you know how to safely handle that gun," Stanfield said, adding that he hoped the class would help gun owners be safer and perhaps prevent future accidents.
Jeffries said if this first run of classes is well attended, then the department would most likely host future classes as early as the spring, with it possibly becoming a yearly service.
The class will be on a first come first served basis and spots are limited, according to Jeffries, who encouraged those interested to register early. The class will end with students firing 50 rounds of ammunition at the firing range. Each student will need to bring an unloaded handgun and 50 rounds of ammunition. Those participating will meet at the police station and travel to the firing range for classes.
For more information or to register for this class, contact the police department at 423-562-8331.
(07/28/2014 - 12:10 AM)
Hear Hatfield here
La Follette's Keith Hatfield, who grew up a stone's throw from WLAF, hosts his very own sports talk show Friday afternoons over his hometown radio station, 1450 WLAF. "Hatfield" as he's referenced by Tony Basilio cranks up his fun couple of hours on the radio every Friday from 1:00 p.m. until 3:00 p.m. on WLAF Welcome aboard, Hatfield! (07/24/2014)
Granny's Old Fashion Café serves up home-cooked meals and hand-made desserts
By Charlotte Underwood
If good old fashioned home cooking and hand-made desserts are what you're hungry for, check out Granny's Old Fashion Café. Located up the valley, near the county line at 5782 Gen. Carl Stiner Highway, the restaurant opened just this past week. Granny's offers a large variety of breakfast, lunch and dinner menu items. From the traditional staples of burgers and fries to deli sandwiches, the restaurant also serves soup beans, chili, deep-fried tenderloin, chicken dinners, Ribeye dinners and much more. For the hotdog connoisseurs out there, Granny's has a deep fried hotdog with bacon and krout that is becoming a local favorite. Another favorite is fish-fries, according to the owners, who said an all-you-can-eat fish fry is planned for Aug. 8, beginning at 5 p.m. Customers can enjoy all the catfish, hushpuppies, fries, coleslaw and sweet or un-sweet tea they can eat and drink for $10, dine-in only. And don't worry about having a place to sit as the restaurant has seating and over flow capacity for about 200 people. Granny's also has daily lunch specials for $6.75.
Home to one of the best hamburgers around, Granny's Old Fashion Café also has a full menu of items including hotdogs, sandwiches, dinners, desserts and much more.
Owned and operated by three sisters who know the ins and outs of a kitchen, Granny's Old Fashion Café uses only the finest ingredients and choice cuts of meat.
"We purchase all of our meat from Hollingsworth Meat Market in La Follette and try to get the best to serve to our customers," said co-owner Thelma Welden. She and her sisters Alice Haulbrook and Janice Wilson run the restaurant and do all the cooking. Each has their own special area of expertise to round out the business. Haulbrook makes delicious and picturesque desserts, while Wilson's meatloaf and lasagna are supposed to be out of this world.
Granny's Old Fashion Café is located at 5782 General Carl W. Stiner Highway, about 10-minutes east of LaFollette in what used to be John D's old bar.
"We do Janice's meatloaf on Mondays and we can't make enough of the stuff to sell; we always run out of it," Welden said, adding that her other sister's cakes sometimes never even made it to the kitchen.
"She brought an apple cake in here and a customer offered her $25 on the spot and bought it before she could even carry it back," Welden said.
Whole cakes are available for purchase, with prices varying depending upon the cake, but orders must be placed one to two days in advance. Haulbrook also makes cobblers and pies and the restaurant offers hand-made milkshakes as well.
Welden enjoys cooking as well, but her favorite part of the business is the customers.
Home-made desserts are co-owner Alice Haulbrook's specialty such as the coconut, German chocolate and lemon cake pictured here. Whole cakes are available for purchase providing orders are made one to two days in advance.
"Alice loves to cook and bake and I love the customers," Welden said, adding that all three sisters learned their culinary skills from their mother, whom the café is named after.
"Our mother is 89 years old and just picked two bushels of beans," Welden said with a laugh, adding that the sisters also got their work ethics from their mother.
"We aren't here to get rich. We just want to provide quality food and friendly service to our customers and make living." The sisters invite the public to stop by and try the home-cooked food at Granny's.
Granny's Old Fashion Café is located 5782 Gen. Carl W. Stiner Highway where John D's bar used to be. For more information or to place an order call 423-377-5947. The business is open Monday through Saturday from 6 a.m. to 8 p.m. (07/24/2014 - 6:00 AM)
State of the County - Mayor William Baird & Deputy Mayor David G. Young 07/22/2014
<>
Services from the First Baptist Church of La Follette 07-27-14
<>
3rd Forum '14 - district 5 school board/commission & sheriff candidates 07/17/2014
Forums 1 and 2 are found further down this page
1st Forum '14 - districts 1 & 2 school board/commission candidates 06/26/2014
2nd Forum '14 school board/commission districts 3 & 4 and mayoral 07/10/2014
ESPN-SEC Network airs in August
It`s about 90 days to the TENNESSEE VOL kick off on the new ESPN Network. If you are NOT using Dish Network you will not be watching. As of now Dish is your only option in Campbell County to see the new ESPN-SEC Network which begins August 14, 2014. See our local Dish Retailer "American Cable" in the Food City Center soon to be connected to the new SEC Network. Do not miss the Vols first two games of 2014. Visit them in the mall or click below. .... Free IPAD Mini offer to expire within days.
Click the cap to watch the 2014 CCHS Graduation Ceremonies